"That is the beauty of being a soldier. Right there in that moment with your rifle propped up against the dirt, knowing that even if you don't get to be the guy up at the front shooting, you have a sector that is yours and you know in your heart you will shoot any enemy that comes into it. That's how simple it is."
— Kate Raimann, CST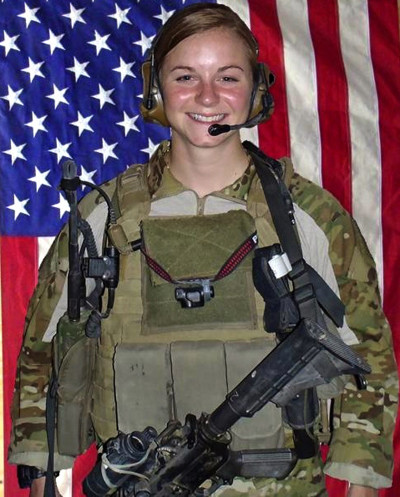 While operating in Iraq and Afghanistan, the US Army realized there was a gap in their operation. The entirely masculine nature of their forces hampered intelligence gathering because male soldiers were unable to work effectively with the women and children present on the ground, a result of a culture which severely restricts inter-gender interaction. This was potentially lethal, as the women could also be used hide weapons and explosive. To address this, in 2010 a forward thinking group of the military sought to get around the archaic ban on women troops in combat situations, by creating Cultural Support Teams, formed of women who could accompany the special operations forces on their missions, officially in "support" roles, and question the women who were often the best informed with regard to the movements and actions of local insurgents.
The female soldiers selected for the task needed a particular set of skills – not least an unusual amount of physical fitness, since they would have to keep up in the field with the likes of Army Rangers. But they would also require "soft skills", such as the ability to draw information from civilians quickly, by establishing a relationship of trust, while also being able to assess the information rapidly for accuracy. Despite the obvious risks and challenges, the program attracted interest from current members of the Army, National Guard and Reserves, intrigued by the possibilities and keen to be part of history. Lemmon tells the stories of a number of these women, going through the selection process and their training, then into their deployments. In particular, she looks at 1st Lt. Ashley White, a woman considered by those over her as "sweet enough to be a Disneyland greeter," yet who became the first CST member killed in action, and who earned a place on the Army Special Operations Memorial Wall of Honor, despite the lack of full official endorsement for her role at the time.
Unfortunately, the book doesn't really do White and the other women justice, in part because you're more than half way through before they've completed their training, which is probably the least interesting aspect of their stories. Lemmon's style is placidly uninteresting too, and fails to paint a picture of the soldiers as individual characters; she may, perhaps, be trying to tell too many stories here, and especially early on, this results in a jumble of faces and names that fail to make much of an impression. Things do improve a fair bit once the women touch down in Afghanistan and Iraq, and Lemmon does generate a good deal of tension telling the stories of their missions – typically in the dead of night – to help the Army Rangers hunt down and capture insurgents. Though, even here, I'd have liked to know more details of who they were targeting, let's give the author the benefit of the doubt and say that operational security limited the amount of specifics that could be included.
The book doesn't pull its punches in describing the events surrounding Ashley White's death, and it's a sobering reminder of the realities of war, especially a non-traditional one, against a fluid enemy, such as is the case here. You can literally be a step away from death; in this case, White's translator moved away to adjust her night-vision goggles and so survived the IED blast which took the life of her comrade. Of such fragile choices can life sometimes tilt. But only sporadically does Lemmon capture this, or at the other end, the adrenalin rush eloquently expressed in the quote which starts this piece, and which does more to explain why people serve than hundreds of pages of mostly bland prose, as served up here.
Publisher: Harper, $15.99 (paperback) $14.99 (Kindle), available through Amazon