"Hooray, beer!"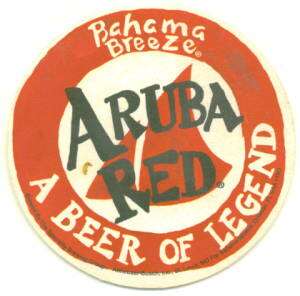 Don't look for Aruba Red in your local video store. You won't find it, because it is a beer. Yes, an alcoholic beverage. So, what in heaven's name is it doing on this site? Well, as far as I know, it's the only beer inspired by a female action heroine, albeit a fictitious one.
It's only available at the Bahama Breeze restaurant chain – to quote their site: "No one knows where she came from, but over 200 years ago she appeared, leading a pack of pirates spreading mischief and mayhem throughout the Caribbean. Nicknamed Aruba Red for her fiery red hair, she was as sly as she was fearless. She would slip aboard ships at sea in the dark of night, scouting for treasure. At sunrise, her pirate band would board the ship and make off with its valuables.".
There's a fair bit more: as yarns go, it's kinda cool, even if I don't believe a word. I still approached with caution, since it's exclusively brewed for Bahama Breeze by the Evil Empire: Anheuser-Busch, makers of Bud and Michelob. As someone who likes beer, it is a tenet of faith that they are the Antichrist. Aruba Red, however, isn't bad – in terms of flavour, it's as if someone attempted to make Red Stripe based on a second-hand description. Though the hint of bananas is odd, if fitting the tropical theme. Going by the headache that eventually arrived (though my dehydration probably helped), it seems quite strong, and at only $2.50 for a pint – and a 20 oz. British one at that – is excellent value.
Over at BeerAdvocate.com, it's ranked #2 out of 38 Anheuser-Busch products. You go, girl. :-) If only it was widely available: the sole thing preventing it from getting our seal of approval, is that you can only get it in the restaurant. For what could be more perfect to accompany that viewing of Cutthroat Island?
Brewer: Anheuser-Busch
Available: Bahama Breeze restaurants