"Why'd they create me?" Seems a valid question to this viewer…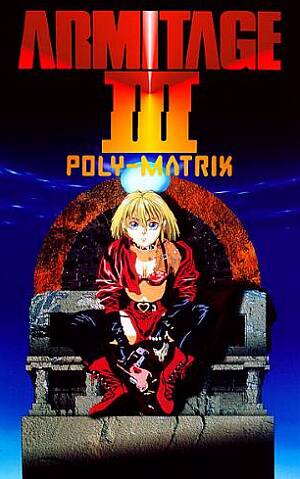 As a rule, we don't watch dubbed anime, finding it a painful experience; unfortunately, this version, which compacts four OAVs into a feature, is only available in English. However, it's not too awful, helped considerably by Sutherland's comfortingly flat tones – in the seven years since this was originally released, his career has been revived, courtesy of 24 [co-star Berkeley, meanwhile, is still struggling to overcome her starring debut in Showgirls]. What does seem to have hurt, is the editing down, which leaves the storyline struggling for cohesion.
Chicago cop Syllabus (Sutherland) arrives on Mars and is immediately thrown into the investigation of a series of "murders". Quotes used advisedly – what's being systematically killed are "Thirds", robots that are almost indistinguishable from humans. He's paired with local officer Naomi Armitage (Berkeley), who has an aggressive approach and is a Third herself; the two have to solve the case while coming to terms with their own prejudices (Syllabus) or self-esteem, heritage and sense of being (Armitage).
In other words, the usual robot angst found in anime, such as Ghost in the Shell and Battle Angel. And this is really the problem, with little here we haven't seen, and animation that is nothing special. There's some imagination in the setting, and interesting hints at political conspiracy, but the detail has apparently been discarded in the race to get everything over in 90 minutes. The full-length, original language version is almost certainly a better place to start.
Dir: Takuya Sato
Star (voice): Kiefer Sutherland, Elizabeth Berkeley, Dan Woren, Wanda Nowicki