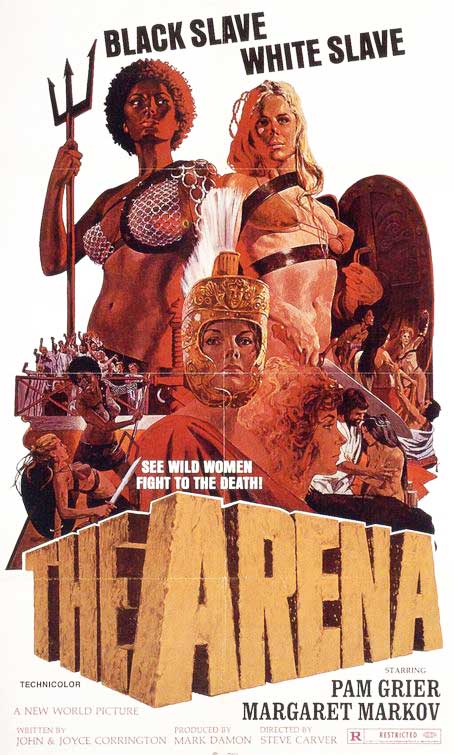 The tagline for this was "Black slave, white slave", a less than subtle nod to the fact that it reunited Grier and Markov, the star of Corman's jailbreak movie from the previous year, Black Mama, White Mama. The similarities of this film to it are obvious: two women from opposing backgrounds forced, through adversity, to unite, respect eventually growing between…etc, etc. Hell, there's even a shower-scene – although since this dates back to pre-shower days, it should strictly be called a bucket-of-cold-water scene.
Here, Grier and Markov play Mamawi and Bodicia respectively, slaves captured and put to work in a provincial gladiatorial arena – at first working the concessions (or Roman equivalent thereof), but when the owner discovers the appeal of women fighting, he sends them into the arena. They eventually rebel against the authorities, and help each other in an escape attempt that puts their lives at risk.
Not quite as ludicrously anachronous as it sounds – there actually were female gladiators – the small budget is helped immeasurably by shooting in Cinecitta, Italy's main studio, which no doubt provided sets, costumes and props. There is a good feel for the callous barbarity of the time, which contrasts well with a touching love story between the trainer and one of the slaves. Once you get beyond the shower scene, it's surprisingly restrained – while there's no shortage of nudity, it is less gratuitous that you might expect.
The leading actresses are both good in their roles, but their fighting skills leave too much to be desired. It's difficult to see how they could have won over the crowd to their side, as is required by the plot. Once they escape the arena, things do perk up a little on this front, but it remains not a movie to recommend for action. This is not least because, while it was shot in 'Scope, even the DVD is pan-and-scanned. It's thus rare that you get to see both participants on the screen at the same time.
Despite this, it's rarely boring and never unwatchable, with decent production values and everyone putting in sufficient effort to make it worthwhile. Can't help wondering if Sid Lawrence's fey Roman Priscium, had some kind of influence on Joaquim Phoenix's performance in Gladiator. Certainly, this film was among the final twitches of the sword-and-sandal genre, which would go into hibernation, to await rejuvenation courtesy of Ridley Scott.
Reports suggest director Carver was largely helped out by Joe D'Amato, who'd go on to make both video-nasties and porno films. Perhaps the most famous name involved, however, is editor Joe (Gremlins) Dante, another one of Roger Corman's alumni. Pam Grier, of course, would become a favourite of Quentin Tarantino, but let's not hold that against her. Markov, on the other hand, would make only one more movie, the barely known There Is No 13.
Dir: Steve Carver
Star: Pam Grier, Margaret Markov, Lucretia Love, Paul Muller