"One of the first TV action heroines; for 50 years old, better than you might expect."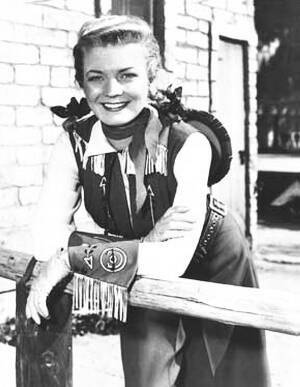 This TV series was Gene Autry's idea; he wanted to give little girls a western star of their own, and created a show based on the character of Oakley, the most famous sharpshooter of all time. In his version, she lives in Diablo with her brother Tagg (Hawkins) and keeps the town safe along with deputy Lofty Craig (Johnson) – the sheriff, Annie's uncle Luke, was somehow very rarely around… It ran for 81 episodes from January 1954 to February 1957; two DVDs, with five first season stories on each, have been released by Platinum –  you can get the box set of both for $5.99, which is a steal.
Given its age, it's no surprise that this is certainly a little hokey, but is by no means unwatchable. The writers cram a lot into each 25-minute episode, and Oakley is a sharp-witted heroine, in most ways years ahead of the usual portrayal of women (though still afraid of mice!) – she'd probably be a better deputy than Lofty! It certainly helped that Davis, a mere 5'2″, was a skilled rider herself, and did most of her own stunts. However, this being a 50's TV show, there are limits. Annie never kills anyone, preferring to shoot the gun from their hand, while fisticuffs are left to Lofty, though at least one ep (Annie and the Lily Maid) has an unexpected mini-catfight.
Perhaps the best episode on the DVDs is Justice Guns, where an ex-marshal with failing sight seeks revenge on the man who shot his brother. Annie has to try and solve the situation, and while you know she will survive, the lawman's fate is much less certain as the four o'clock shootout approaches. In a series that is, even I will admit, often sugary and predictable, this has genuine tension, and that's something which five decades haven't changed one bit.
Star: Gail Davis, Brad Johnson, Jimmy Hawkins