"A bridge too far."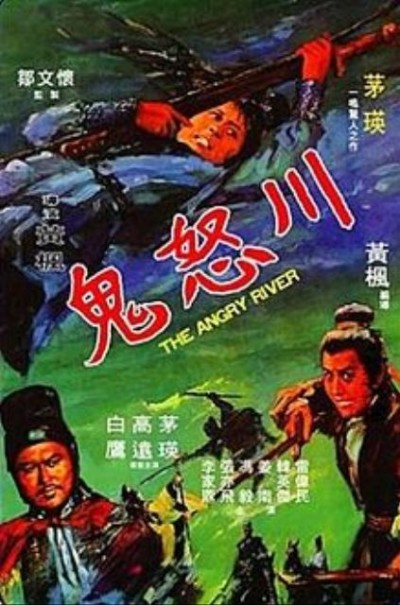 Not just Angela Mao's feature debut, it was also the first film produced by then-fledgling studio Golden Harvest, who would go on to become arguably the premier name in Hong Kong Film production, up until the colony's handover back to China in 1999. Even discounting their work with Bruce Lee, Jackie Chan, Sammo Hung, Tsui Hark, Stephen Chow, Donnie Yen, etc. and sticking purely to the action heroine field, Golden Harvest were the company behind She Shoots Straight, the Inspector Wears Skirts series and Naked Killer. Their commitment to our field is apparent right from this inaugural movie, where Mao plays dutiful daughter Lan Feng, whose father becomes one of the victims of 'Poison Dart', whose name pretty much explains what he does. Cursed to a long lingering death, the only cure is a rare herb.
Lan sets off to find it, crossing the fiery Angry River, going through the Merciless Pass, and encountering another couple of dangers without names, but we might as well call them the Cave of Really Bad Optical Effects, and the Giant Gecko That Knows Kung-Fu. The latter actually defeats our heroine (though she does save 15% on her car insurance), but impressed by her filial piety, she is given the herb, albeit at the cost of losing her kung-fu skills. She then has to make her way back home, which is even more perilous now she can't fight, and has to rely on the kindness of strangers to protect her, because there are a lot of other people who are also very keen to get their hands on the mystical plant, whose powers extend beyond being merely an antidote to poison. And when she finally returns to her home, a nastier shock awaits.
Maybe it is just me: I kept being reminded of Homer's Odyssey, with Mao playing the hero, whose objective, simply to get back home is endlessly diverted and derailed by external forces. I suspect any such similarity is, as they say, purely coincidental, and they just share the same basic plot of the hero's journey, as introduced by Joseph Campbell in The Hero with a Thousand Faces. But there are elements where you can tell it was a debut film, such as the rubber-suited lizard which, it's charitable to say, presumably worked better on the page than the screen. It's also a mis-step to rob the heroine of her powers for almost the entire second-half, leaving her a spectator to her own story – even Odysseus only spent a bit of time tied to the mast. Particularly early on, Mao's fights feel stilted – punch-pause-block-pause-kick – though there actually is a storyline reason for why she has to be reined in to start with, in order that Mao can go full-throttle at the end [like I said, the herb has other uses…] You can see where they were aiming – slightly to the side of the then-dominant Shaw Brothers studio – yet overall, there's certainly a lot of room for improvement here. As a first effort, I guess it's okay.
Dir: Feng Huang
Star: Angela Mao, Kao Yuan, Pai Ying, Han Ying Chieh