"More double-blank domino, than a double-six"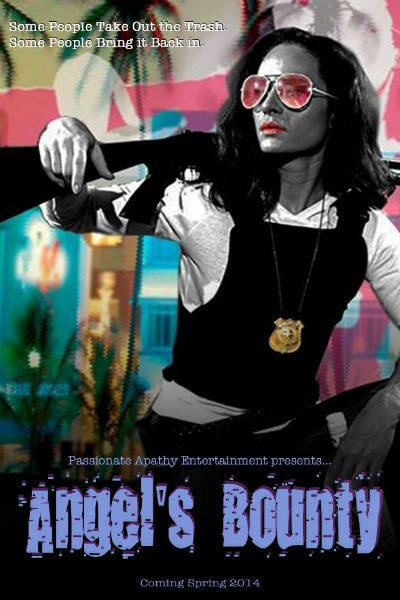 Having been involved in low-budget feature films (on both sides of the camera), I'm very much aware of how much dedication and hard work it takes to bring a feature to the screen. I tend to try and cut them slack where possible, especially when they're in our genre. Unfortunately, the results here aren't actually very good, and I struggled to stay focused on the film for much of the running time.
The heroine is Angel Sommers (Springer), a bounty hunter with dreams of opening a "doggie daycare" business in Los Angeles. Her chance comes when she gets notice of a fugitive called Tommy Briggs (Giuliotti), with a sizable reward on his head. And there's a personal element too, for Briggs was involved in the death of Angel's father, also a bounty-hunter, when she was a young girl. The capture of Briggs goes relatively smoothly. It's the journey back that's the problem, for it turns out his Russian ex-wife, Isabelle (Chris Stordahl) has her greedy eyes on Tommy's life-insurance. To this end, she has hired a couple of bumbling assassins, who are intent on making sure he doesn't make it into custody alive. If Angel gets in the way, that's her problem.
In other words: nothing here you haven't seen before. Right down to the bickering between the assassins about Doritos, which sounds like something from a first draft of a Tarantino movie, this is a warmed-over hodge-podge of over-familiar concepts and tropes. Curiously though, Angel is not particularly interested in revenge against the man who killed her father. You'd think there'd be a good deal more heat generated by that long-held grudge, yet the relationship remains almost defiantly low-key. The production also makes almost all the mistakes made by low-budget films. [I know, because we've made 'em.] Murky sound? Check. Supporting cast of enthusiastic amateurs? Check. Pointless cameo by a local band, in which the director may well have friends? Check: Guns of Nevada here.
There are occasional scenes that work. A nice one has Angel interacting with a husband and wife couple who run a motel. And I actually liked Springer, who brings an entirely appropriate, world-weary quality. However, the threat level of the hitmen is so feeble, there's not a shred of excitement to be had. Which would be okay if the aim was comedy, except there's even less mirth to be found here, than excitement. There's also needless diversion in the shape of Angel's cronies, who add nothing of significance to the entire production. Their roles should have been excised entirely, and the freed-up running time used to add depth to Angel, or her relationship with Tommy, the latter existing only because the plot demands it.
While it's clear Fleming and Springer have a love for the genre, that isn't enough to salvage this. And a demerit for apparent ballot-box stuffing on Amazon. A suspicious number of the glowing five-star reviews, are from people who have never reviewed anything else…
Dir: Lee Fleming
Star: Kristen Springer, J.P. Giuliotti, Alastair Bayardo, Travis Gray