"Now you can die, too. Because I'm going to kill all of you!"
Mao Lin Ying, better known in the West as Angela Mao, may not have been quite the first "Queen of Kung-fu" – Cheng Pei-Pei probably beat her to the punch there, as it were. But with a slew of excellent work in the seventies, she certainly paved the way for those who were to follow, from Cynthia Rothrock to Michelle Yeoh. Mao is probably best known in the West for her small role in all-time martial arts classic, Enter the Dragon, where she played the sister of Bruce Lee, Su Lin, who is attacked by Han's minion, O'Hara, and commits suicide rather than be raped by him. [Mao was paid the princely sum of $100 for her performance!] But that just scratches the surface of a career which included nearly thirty films during that decade, with Mao the star of many, rather than a supporting character.
She was born in Taiwan, less than a year after its establishment as an independent state, following the defeat of Chiang Kai-Shek by the Communists. In her early year, she took a similar route to Jackie Chan, being enrolled in a school for Chinese Opera at the age of five, where she trained for the next 14 years – among her classmates for a time there was another future Taiwanese action heroine, Judy Lee. Around the end of sixties, she was introduced to Raymond Chow, who was then attempting to get his fledgling movie studio, Golden Harvest, off the ground, and was looking for a female star who could headline its slate of pictures, in the same way as Cheng was being used by the rival Shaw Brothers. The combination of dramatic and physical skills which Mao brought to the table proved a good fit, and she was cast as the lead in Angry River, the debut production from the new company.
"You want some more?"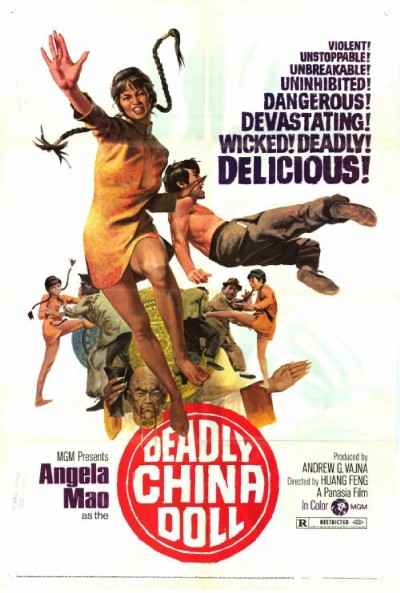 In it, she plays Lan Feng, who goes in search of a rare, much sought-after herb needed to cure her sick father. Shot in Taiwan, and using music in large part ripped off from On Her Majesty's Secret Service, it's clear Angela's martial arts talents were still evolving; you really need to remember she was still a teenager when she made it. Mind you, the sequence where she takes on a giant rubber-suited "lizard" that knows kung-fu, appears to come from the imagination of a six-year-old. As well as the first film for Angela and Golden Harvest, it also marked the beginning of a frequent collaboration between Mao and Sammo Hung, who was the action director as well as playing a supporting role. They'd work together another dozen or so times over the subsequent decade, and it seems fair to credit Sammo for helping Angela develop, coming up with a style which meshed with her balletic training and flexibility.
It was two subsequent films, Lady Whirlwind (a.k.a. Deep Thrust – surely one of the finest exploitation retitlings of all time) and Hapkido, which elevated Mao's star, particularly in the West, where she broke through in a way that none of her sisters could quite equal. That helped lead to her supporting role in Enter the Dragon, and her career continued to roll for the rest of the decade, both for Golden Harvest and in work for other studios. Perhaps the most notable – if not, it has to be admitted, the best – is Stoner, a.k.a. The Shrine of Ultimate Bliss, which was originally intended to star Bruce Lee. In this, he would team up with both Sonny Chiba and one-time 007, George Lazenby, who had signed on for a three-picture deal with Golden Harvest.  The story had Lee taking down a gang of drug-smugglers headed by Lazenby [with the tagline, "It's Lee! It's Lazenby! It's Bruce Versus Bond!"] but Lee's death derailed the project. Chiba and co-producers Warner Bros. both backed out, and it eventually became a vehicle, with a budget just a fraction of what was originally intended, for Lazenby as the cop, with Mao stepping in to provide a local box-office draw.
"Killing you is going to be a real pleasure!"
She married relatively young, in 1974, and had a child two years later. It was this that led to her abandoning her film career in 1982, barely into her thirties, so she could devote more time to her family. It was a decision she apparently never regretted, going by the lack of any effort at a comeback – much though many people would have loved to have seen it. It certainly did Cheng Pei-Pei no harm; her turn as the Jade Fox in Crouching Tiger, Hidden Dragon was one of the highlights of an extremely good movie, and introduced her to a whole new generation of movie-lovers. But, hey, perhaps there's time yet: Mao is still only 64!
For now, we have to make do with her films, and there has been a recent surge of decent releases of many, Golden Harvest having apparently realized the value of what they hold in their vaults. So, rather than necessarily having to endure poorly-dubbed entries, cropped to oblivion and taken from prints that appear to have spent several decades at the bottom of a cat's litter-box, we get to enjoy them in a pristine format. Particularly recommended is the six-film set, The Angela Mao Ying Collection, which contains six of her features, including Stoner and the thoroughly entertaining When Taekwondo Strikes.
It's easy to see the influence of Mao on those who came after, for example in the shapes of Moon Lee, Cynthia Khan and Michelle Yeoh, who share Angela's agile grace and earnest, fresh-faced wholesome charm. What they all have, Mao perhaps more than any of them, is the ability to play to their strengths. You don't see Mao going toe-to-toe with bigger, heavier opponents, trying to outslug them. Sure, her punches have impact, but it's the speed of them, and the variety of angles from which they arrive, which is her strength, rather than her… ah, strength. The size differential is always an issue when you have women taking on men, and some films do a better job than others, of addressing this issue in a credible manner. With Angela Mao, it's never a problem; even when going up against someone like Sammo Hung, you never get the sense she is physically over-matched. Forty years on, they are still some of the best example of female martial arts made, and Mao's title of "Lady Kung-fu" remains entirely justified.
Our Angela Mao reviews
Below, you will find a playlist containing more than twenty Angela Mao features, all of which can be enjoyed on YouTube. Some are dubbed, others subbed; some are beautifully widescreen, others… not so much. You take what you can get! They're in chronological order, and I'll update the playlist with new or upgraded entries as appropriate.