"Angels of death"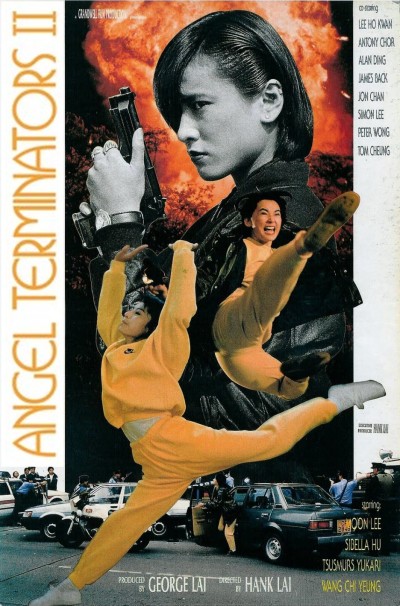 I have not seen Angel Terminators, so cannot comment on its merits or flaws. However, it does not appear that this impacted my thorough enjoyment of this slice of early 90's Hong Kong goodness, and nor did the mangled subs which leave me a little vague on some details. The two heroines are Chitty (Lee) and Bullet (Oshima), who are… Cousins? Sisters? Not sure. Bullet has just got out of prison, having turned to delinquency after blaming her policeman father for the death of her mother. He and his partner (Hu) – who adds to the confusion because everyone calls her Big Auntie – try to achieve a reconciliation, but Bullet is unimpressed. She goes to her former gang boss for money, having taken the fall and gone to jail for him, but he just wants Chitty to become a hostess. The fight than ensues, kicks off a chain of events which leads to Bullet stealing some jewels belonging to the boss, who unleashes the accurately-named Brother Mad (Wong).
Will there be mayhem? Yes. Will there by fisticuffs and much gunplay? Yes. Will there be people strung up from lamp-posts like some kind of novelty Chinese lanterns? I'm not saying: I'll let the film retain some element of surprise. But for all its broad strokes of characterization, it manages to deliver a relatively-even tone, without any of the slapstick and comic interludes which sometimes plague other entries. Indeed, it does become progressively darker, with a kidnapping forcing action that then goes horribly wrong, setting up even further death and violence. This is all accompanied by high-quality action, right from the get-go, starting with Hu leading an assault on criminals holed up in a restaurant, before quickly bringing you a battle between Lee and the leaders of another training squads in a gym, then escalating from there through to a bloody finale.
It's easy to become somewhat jaded, particularly when you're watching films because of their genre, without applying any quality control. But then you find a movie like like this, which looks like just another generic action heroine flick, yet instead delivers everything you could want from low-budget action, easily making up for in energy what it may lack in polish. With Lee, Oshima and Hu, you have a hand of three aces, and the film is only a couple of Khans (Cynthia and Michelle, a.k.a. Michelle Yeoh) from having the best cast ever in a HK action heroine film. Unlike some (hello, Avenging Quartet), it lives up to that.
Dir: Lau Chan + Chin-Ku Lu
Star: Moon Lee, Yukari Oshima, Chi Yeung Wong, Sibelle Hu