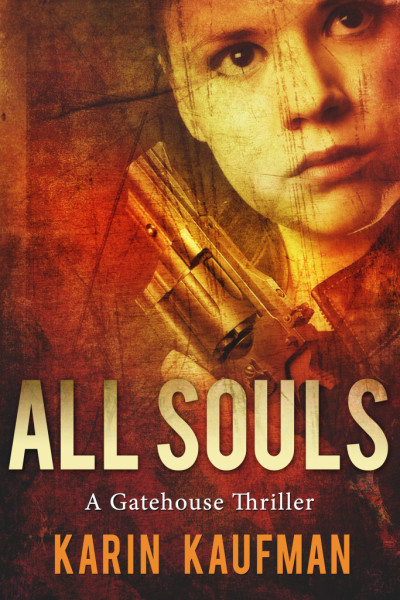 Full disclosure at the outset: Karin Kaufman is a Goodreads friend of mine, and I was one of ten people to claim a free review e-copy of this book. Through much of my reading, I was ready to give it a solid three stars, and the super-strong ending commanded a fourth.
The premise here is that humanity is secretly menaced by a worldwide society of thrill killers, who make the notorious Thugees look like philanthropists, and who are recruited from all walks of normal life, into which they blend anonymously. (Their Gatehouse adversaries call them "Sacks," short for "Sacks of sh*t".) By Gatehouse estimates, the society has well over a million members, and has been around for at least 100 years. Organized in hierarchical ranks (members of each rank supposedly don't cooperate very closely, and hate the other ranks –but they take orders from the higher ranks, and want to advance into them), it has a culture of strange behaviors, like the members taking bizarre secret names and tattooing them on their bodies.
Yet it has apparently no belief system or ideology except conscious embrace of evil and chaotic destruction for its own sake; Sacks apparently have no agenda beyond picking off as many individual innocents as they can without being exposed. The U.S. government –and possibly other governments, but our setting is the U.S.– knows about them and preserves their secrecy. But it combats them with an unofficial arm, the Gatehouse organization, which commands a small army of "hunters" who periodically assassinate individual identified Sacks (as opposed to, say, dealing with them through law enforcement and the court system) at the direction of contacts called "porters."
Our action-heroine protagonist here is Gatehouse assassin Jane Piper, who's very competent at what she does, and very motivated –her only sister was butchered by a Sack. She's as lethal a woman as you'll ever meet in fiction –but at the same time,one of the most compassionate (the two qualities aren't incompatible), a decent person who's kept her humanity and moral compass in a blast furnace of trial. I never had any trouble liking her, nor any doubt of her butt-kicking capabilities.
Early on, Jane reflects that if she stood up and shouted all of the above information in public, nobody would believe her anyway. Apparently, she thinks that the general populace might find this premise far-fetched. Readers might have the same difficulty. The idea is definitely original, but it's rather hard to suspend disbelief here. While many people do embrace very evil agendas, including the killing of the innocent, hardly any do so while openly and consciously telling themselves that they're doing so. The vast majority of them have to have some ideological belief system that justifies the evil by telling them that in reality it's "good," or for a greater good. I may be naive, but I don't think Sack recruitment on the basis of "embrace homicidal evil just because it's fun" would gain as many adherents as they have here. And while I see how Sacks have an interest in keeping their activities secret, I don't buy the explanation that the government tacitly agrees to cooperate in letting them do so, lest they unleash an even greater blood bath if they're forced into the open. Credibility is also strained by some individual characters' motivations. Granted, action-heroine fiction writers often do stretch strict credibility a bit in their premises, and sometimes the tone is sufficiently tongue-in-cheek that the reader doesn't take such lapses very seriously. Here, though, the tone is pretty serious.
It's all the more a credit to Kaufman's ability as a writer, and the strength of this book, that she took that kind of premise and made a four-star book out of it. Her command of language is impeccable –professional, literate, with the kind of painstaking craftsmanship that makes the flow of words seem easy. A Colorado native, she sets her tale in her home state, and the neighboring parts of New Mexico and Wyoming; she's obviously at home on the ground, with real locations and a sense of place. The plotting is very taut in terms of time, compressed into just seven days –Oct. 27-Nov. 2, All Souls Day. Jane's a first-person narrator for all but the first chapter, and hers is the perfect voice for the tale. She and the other major characters are all well-drawn. "Gripping" doesn't begin to describe this book; it grabs you and pulls you along from the starting gate, and I'd have read it in one sitting if I could have.
That's not to say it's all action; but the waiting intervals in between are as tense as harp strings. When action comes, it comes quick, realistic, and bloody, with a high body count by the time you get to the last page; Kaufman knows her guns, and she writes action scenes clearly and credibly. Jane's colleagues tend to be as combat-skilled as she is; and some of their adversaries are extremely deadly and crafty as well. (Generally speaking, in real life I have a problem with governments violating their own laws by sponsoring programs for extrajudicial killing. But I don't hold operatives like Jane and Nathan responsible for acting in the situational context they're in. They don't make the policy; all they can do is protect the innocent and take care to kill only the guilty.) And Kaufman's plot is a roller-coaster of surprises.
Ultimately, though, this is more than a novel of slam-bang action. It becomes a serious exploration of the possibilities of moral conversion, from great evil to willing embrace of good; of guilt and atonement; of the limits of forgiveness –in short, the kinds of serious moral questions that occupy the great literature of the Western tradition; underneath the smell of gun smoke and blood, we're in the same realm here that Hawthorne and Dostoevsky, Undset and Graham Greene have visited before. Since this is a series opener, it'll be interesting to see where Karin takes this theme in future books. And I'll find out; because I definitely want to follow the series!
Note: there's not only no sex here, but no romantic sub-plot. Gatehouse doesn't encourage its operatives to marry, and doesn't allow them to stay in the organization if they conceive a child. (If Jane ever decides that she wants a man in her life, I think that she deserves a good one, and that she'd be a great wife; but for now, she's content to be alone, and doesn't obsess about men and sex.) There is a fair amount of bad language, including some use of the f-word.
Author: Karin T. Kaufman
Publisher: Amazon Digital Services, available through Amazon, only for Kindle or as an audio book at this time.
A version of this review previously appeared on Goodreads.