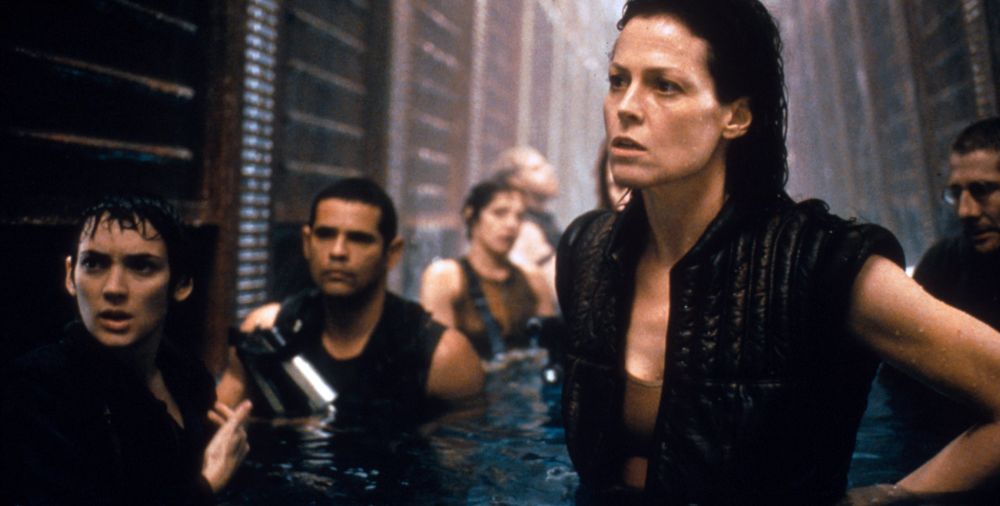 "Alien vs. Firefly"
It's not often that a film series manages to recover from – or even, survive – such a disastrous mis-step. But the Alien franchise managed it, though it took five years to come to fruition, and a Really Big Cheque to Sigourney Weaver [reportedly, $11 million, as well as a producer's credit. The results, while short of the original two movies, are an awful lot better than its predecessor, managing to progress the story, re-invent Ripley and be generally entertaining. However, from a 2012 perspective, it's painfully obvious that writer Joss Whedon recycled large chunks of the supporting characters, and turned them into Firefly. We'll get to that a bit later.
It is set 200 years into the future, and begins with scientists on a space-station creating a clone of Ripley, using DNA from blood samples. They also remove the alien queen embryo which she was carrying, growing that, but keep her around for further study, intrigued by her apparent mix of human and alien DNA that's giving her unusual powers [not unlike the way Alice fuses with the T-virus in the middle Resident Evil movies]. Docking with them is the Betty, a ahip operating on the fringes, which is bringing the scientists some meat popsicles in which they can incubate more aliens. Annalee Call (Ryder) appears to recognize the threat Ripley poses, and tries to kill her – but it's too late, as the aliens have escaped their containment facility. Ripley and the crew have to team up, to try and fight their way back through the station to the Betty, which is the only means of escape left.
That's an improvement in terms of a storyline over 3, simply because it is one, and provides a skeleton upon which a good amount of interesting ideas and fun sequences can be built. Jeunet came to the movie from some visually-striking French films, such as The City of Lost Children, and there's a much better sense of cinematography apparent here – it's a striking contrast to Fincher's approach, where it appears his main direction to the DP was "Darker. Make it darker." Here, you can see what's happening: particular standouts include the first confrontation between Ripley and the Betty crew, in the basketball court, where Ripley sinks a long-range shot behind her back [legitimately done by Weaver], and a lengthy underwater sequence, where you'll probably find yourself trying – and likely, failing – to hold your breath.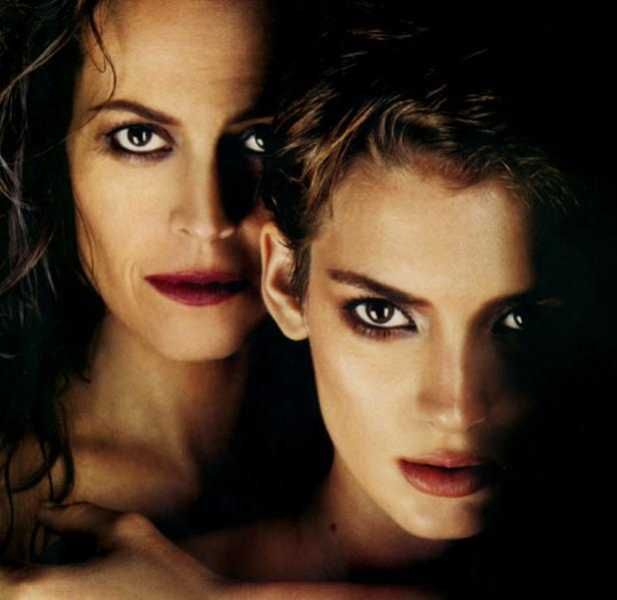 But the central idea is the one of Ripley now being something more than human, and Weaver has a great deal of fun with that, playing as if she's half a beat ahead of everyone else, and completes her transition by no longer being scared of the aliens. It's them who need to be scared of her, and again, I'm reminded of Milla Jovovich in the RE series: more than human, and yet, less than human at the same time. There's even a creature with the proportions the other way round – monster with a touch of human – like Nemesis from RE: Apocalypse, and it was no surprise to read that Paul W.S. Anderson was one of the many directors considered for this (Danny Boyle, Peter Jackson, Bryan Singer and David Croneberg beinh among the others). I briefly drifted off to speculate on the possibility of an Alien vs. Resident Evil cross-over; would probably have been a lot more fun than anything involving Predators.
As noted, what's startling are the parallels between the Betty and the Serenity, from Whedon's show Firefly, which came out in 2002. Both operate on the edge of legality, with a small crew of oddballs: Capt. Frank Elgyn (Michael Wincott) is somwhat less sympathetic than Mal Reynolds, but in both you have a captain/first-mate/pilot trio of two men and a woman, two of whom are in a relationship, plus a mechanic from an unexpected minority (there, a woman; here, disabled). If Perlman's lumbering mercenary Johner isn't a blatant dry run for Jayne Cobb, I don't know what is, and there's more than a touch of mechanic Kaylee Frye to be seen in Annalee. Writing as someone who found Firefly no more than a passable timewaster, it's amusing to see Whedon was stealing from himself. Still, if you're going to plagiarize, best use your own work, I suppose.
Oddly, Whedon hated this finished product almost as much as Fincher did the third, saying, "It was mostly a matter of doing everything wrong. They said the lines…mostly…but they said them all wrong. And they cast it wrong. And they designed it wrong. And they scored it wrong. They did everything wrong that they could possibly do. There's actually a fascinating lesson in filmmaking, because everything that they did reflects back to the script or looks like something from the script, and people assume that, if I hated it, then they'd changed the script…but it wasn't so much that they'd changed the script; it's that they just executed it in such a ghastly fashion as to render it almost unwatchable." It seems likely that's why he recycled so many of his characters for Firefly.
It's far from perfect, however. The biggest flaw is Ryder, who is completely unconvincing, and not a patch on her predecessors [if you're thinking, "What predecessors?", there's a clue in the initial letter of her character's surname…]. I wasn't too fond of the way the film went in the final act, and the human-alien hybrid is neither convincing nor scary. It's damn hard to believe that Whedon came up with five endings, and this was the one Jeunet picked as the best. But, really: after the dismal failure which was part three, it was a major relief to see something even semi-competent, which managed to sustain my interest (okay: consciousness) much better, and be generally entertaining.
Dir: Jean-Pierre Jeunet
Star: Sigourney Weaver, Winona Ryder, Ron Perlman, Dominique Pinon