"A movie based on a comic book? Sounds like a dreadful idea."
The obviously self-referential parody of Peggy Carter's line above indicates one of the main issues with this show: an uncertainty over whether or not it should be taking itself seriously. It wasn't even clear if the network was doing so: sure, they gave it an extended run, the sophomore series running 10 episodes, two more than its original one. But somehow, they then ended up having to run most of those in double helpings, to fit them all in between a start that was two weeks later, and Agents of SHIELD's return. Probably no wonder it struggled for an audience, the premiere scoring less than half the ratings obtained by season one, then dropping a further 25% from there. Between that and its star signing on for another ABC series, legal drama Conviction, it would not surprise me if this is Carter's swansong, despite an ending which hints at more. [Though recent rumors suggest it may survive to fight another season]
That's a bit of a shame, as I felt the show was better this time round, not least because they dropped the tedious "Carter has to prove herself" subplot, which was flogged to death in the first season. Praise be, she is now regarded as competent enough to be trusted by those around her. It relocates Peggy Carter (Atwell) from New York to Los Angeles, where she helps Daniel Souza, the chief of the new SSR office there, investigate the mysterious case of a woman's body found in a frozen lake. The trail leads to Isodyne Energy and their research into "zero matter", an extra-dimensional energy potentially more powerful than an atom bomb. When the owner's wife, actress Whitney Frost (Everett) is exposed to the matter, she develops abilities, but also a very bad attitude, and it's up to Peggy and her SSR colleagues to stop her from cracking open our dimension.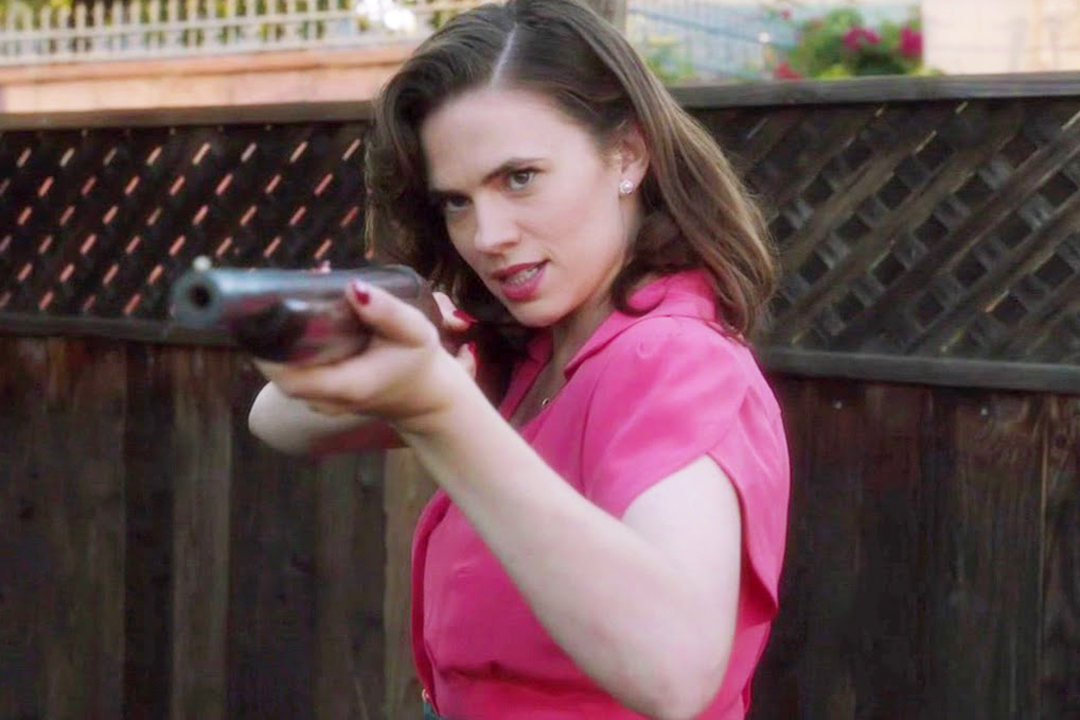 At its best, this is smart and a great deal of fun – it's good to see Marvel providing not just a heroine, but a villainess, and, indeed, at one point Carter is forced to turn to her season one enemy, Dottie Underwood for help, completing a trifecta of female awesomeness. Much less interesting are the ongoing dismal efforts to shoehorn romance into the proceedings, even if last season's focus of unresolved sexual tension, Howard Stark's butler Edwin Jarvis (D'Arcy), suddenly turns out to have a wife. Instead, Carter's affections are divided between Sousa and Isodyne scientist Dr. Jason Wilkes – though since the latter spends most of the season only tangentially connected to our dimension, this makes for more puppy-eye gazing than anything. All this is no less annoying than the first time round, and Marvel still seem unable to grasp that a heroine does not "need" a man, any more than their heroes "need" women. Nor did we really need a musical dream sequence, which I find the last refuge of the desperate show-runner, even if it did give us a quick cameo from Lyndsy Fonseca.
On the other hand, Atwell remains as good a figure as ever, and I did enjoy the dry stabs at wit, with the characters playing nicely off each other, in between romantic interludes. It also helped that there was a single, over-arching storyline, while its predecessor seemed to spend most of its time thrashing about, trying to find a direction. If the series is renewed, it's those positive aspects I hope are emphasized in its third season: while there remains a lot of room for improvement, there is also significant potential, and it would be interesting to see how the show bridged the gap between its era and the rest of the Marvel Cinematic Universe.
Star: Hayley Atwell, James D'Arcy, Wynn Everett, Reggie Austin