"Faster than Greece-d lightning."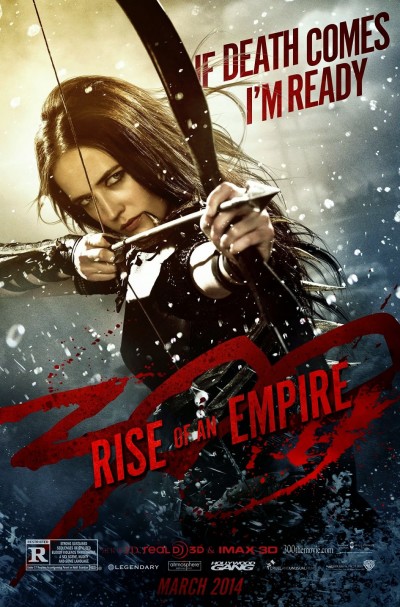 I'm going out on a limb here, and predicting that Eva Green is going to be the next great action heroine. She seems very taken by strong female characters, from Morgan Le Fay in Camelot, through Vanessa Ives in Penny Dreadful, and we recently noted her contribution to the marketing for Sin City 2. But this was unexpected. We watched it, purely because we saw and enjoyed the original film, and didn't expect this one to come anywhere near qualifying for the site. I mean, we were aware of Artemisia – almost a decade ago, Brian wrote a piece for the site, detailing why she'd be a good subject for a movie. However, we were expecting this to be an entirely macho film, likely bordering on the homoerotic, as mercilessly parodied in Meet the Spartans. We certainly didn't expect her to be so pivotal to this sequel.
Well, technically, it's neither sequel nor prequel to 300; it's more of a companion piece, depicting events elsewhere around the same time, and focusing on the naval battle between the Persian forces, nominally under Xerxes (Santo), and the Greek ones of Themistocles (Stapleton). In an earlier encounter, Themistocles killed Darius, Xerxes's father, which sent Xerxes off the deep end – carefully shepherded there by Artemisia (Green). She is a Greek citizen whose family was slaughtered by their soldiers when she was young, with her being subject to years of horrific abuse. Left for dead, she was rescued by Persians, switched sides and rose through the ranks, now seeing in Xerxes a chance to extract retribution on her former nation. Unlike Xerxes, who was portrayed in the original as Caligula with muscles, Artemisia is smart and resourceful, not making the mistake of under-estimating the Greeks in general, and Themistocles in particular. Indeed, as far as we are concerned, she was much more interesting than the hero, particularly in terms of back-story. She also kicks serious ass, both with a bow and her pair of swords.
As far as general film-making goes, this seems to have built on Spartacus, in much the same way that Spartacus built on the original 300. Indeed, there's a fairly explicit nod to it, in the casting of Peter Mensah as Artemisia's trainer, a similar role to the one he played in Spartacus. This means lots of slow-motion and buckets of digital gore, which seems to hit the camera lens more often than it hits anywhere else. It also perhaps means playing faster and looser with history: neither Darius's death nor Artemisia's fate are as depicted in the movie. But, hey, when facts conflict with drama, it makes cinematic sense for the former to give way. If what you have here occasionally topples over into video-game style, it rarely looks less than lovely, and if Artemisia wasn't enough, we get a bonus action heroine at the end, as Queen Gorgo (Headey), leads the Spartan reinforcements into action. Now, will someone please give Green a full-on starring role in which she can kick butt, and tell me where I go to sign up?
Dir: Noam Murro
Star: Sullivan Stapleton, Eva Green, Rodrigo Santoro, Lena Headey