"After the apocalypse, there will still be photocopiers. And raves."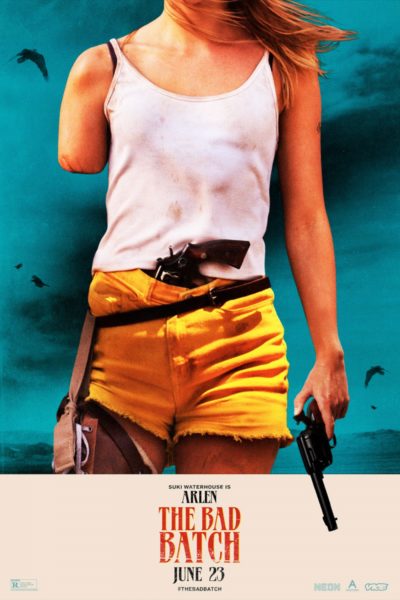 In the film's defense, it's not clear quite how post-apocalyptic this is meant to be, since we don't see anything of the world at large. Everything takes place inside a stretch of desert which has been used, apparently for some time, as a dumping ground for the dregs of society. Into this environment is dropped Arlen (Waterhouse), who soon gets first-hand experience of the situation, when a cannibal mother and daughter capture her, and cut off an arm and a leg. She escapes, and is found and rescued by the Hermit (Carrey), who brings her to Comfort, the nearest the zone offers to civilization. When she's well again, Arlen returns to take revenge on the mother, but believing the daughter to be innocent, takes her back to Comfort. Which provokes the ire of Miami Man (Monoa), a tattooed behemoth who turns out to be the girl's father, and wants her back.
There's also Keanu Reeves, running around as "the Dream," a rave promoter, drug pusher and overall lord of Comfort, who has a harem of pregnant, gun-toting women, all sporting "The Dream is inside me" T-shirts: probably the film's most memorable image, despite its undoubted ludicrousness. But it all fails to gel into anything coherent or interesting, except in very sporadic moments. It's a long slog through the first 30 minutes, which are almost entirely dialogue-free, to get to what passes for the meat of the story – though it's more like undercooked tofu, to be honest.
For the movie never achieves anything like a consistent direction or even tone. Even its Wikipedia page calls the film a "romantic drama horror-thriller". Good luck juggling all those genres. Is it aspiring to be Mad Max? A spaghetti Western? My best guess could well be, merely a six million dollar budgeted excuse for the director's favourite Spotify playlist, the soundtrack roaming with jarring inconsistency from Culture Club to Die Antwoord, while we endure lengthy shots of Arlen wandering the desert, high on the Dream's product. And don't even get me started on the Hawaiian Momoa playing a supposed Cuban, with a cod-Mexican accent. I'm just glad Chris (whose family is genuinely Cuban) wasn't around, or all Momoa's scenes would have been overdubbed with a stream of her derisive snorts, emanating from next to me on the couch.
I did appreciate the look of the film, with some striking imagery: the towering wall of shipping containers, parked in the middle of the desert, for example. That just isn't enough to sustain a 115-minute running-time, especially when the film seems to get bored of its own ideas, and forget about them. Miami Man, for example, despite proclaiming that his daughter is the only thing he cares about, apparently abandons this search and drifts away from the picture, apparently preferring to do something else for much of the second half. This viewer's interest was right there beside him.
Dir: Ana Lily Amirpour
Star: Suki Waterhouse, Jason Momoa, Keanu Reeves, Jim Carrey