"Approximately 900 times longer than the song which inspired it."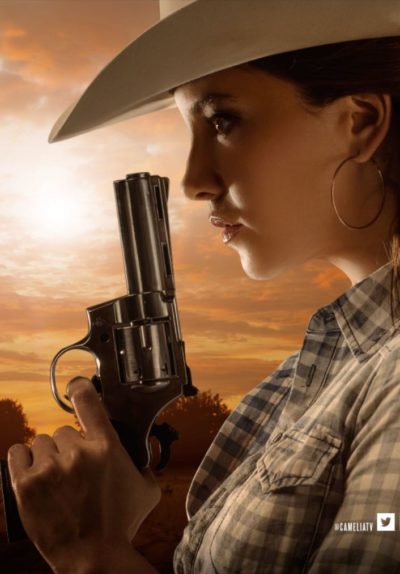 "A woman, if she loves a man, can give him her life.
But you must be careful if this woman is hurt,
For betrayal and smuggling are incompatible."
— Contrabando y Traición, by Los Tigres del Norte

I almost gave up after 20 episodes, as it had largely degenerated into a telenovela version of American Idol. [Seriously: the heroine had partnered up with a wannabe singer, trying to break into show-business] But literally in episode 20, Camelia finally got her act together. She gunned down both a corrupt Border Patrol officer, then pumped seven rounds into her boyfriend after he announced he was going back to his wife and child. Ok, I'll watch a bit further. Turns out, the show seemed to operate on 10-episode arcs. Episode 30 saw a Godfather-like wedding massacre, which rewarmed my interest. By part 40, we had a former Interpol agent, who had taken the veil and was hiding out in a convent, while still having her "very particular set of skills" And at the 50th show… Well, we were close enough to the end – the series had 60 episodes – it seemed kinda pointless to stop.
The problems were the nine episodes in between, which were much more a chore than a pleasure. The basic story has Camelia (Maldonado) being seduced away from her family in San Antonio, Texas, and ambitions of a career in dentistry, by hunky Emilio Varela (Hayser). He's working for drug lord Antonio Treviño (Gama), who is actually Camelia's father, and who wants her to join him in Mexico. Emilio's mission diverts badly off-book, and ends up dying in a Californian back-alley. Thereafter, it's a meandering tale involving the battles for turf between Don Trevino and his rival, Arnulfo Navarro, as well as the extended families on both sides, and various other elements, such as corrupt Army officer General Urdapilleta, who may (or may not) also be a serial killer.
This will happen: significant expansion is obviously needed when you adapt a three-minute song into about 45 hours of TV drama. For the inspiration here was 1972 song Contrabando y Traición, by Los Tigres del Norte. While colloquially known as "Camelia la Texana," the original title of this narcocorrida – a genre once described as "gangster rap with tubas and accordions" – translates as "Smuggling and Betrayal." That's a fairly accurate summary of both the song and the series. It tells of a couple who drive from Tijuana to LA with marijuana in their car tires. There, as in the show, Emilio tells Camelia he's breaking up with her after they cash in their cargo. The result? "Seven gunshots rang out, Camelia killed Emilio/All the police found was a discarded pistol/Of the money and Camelia, nothing more was ever known."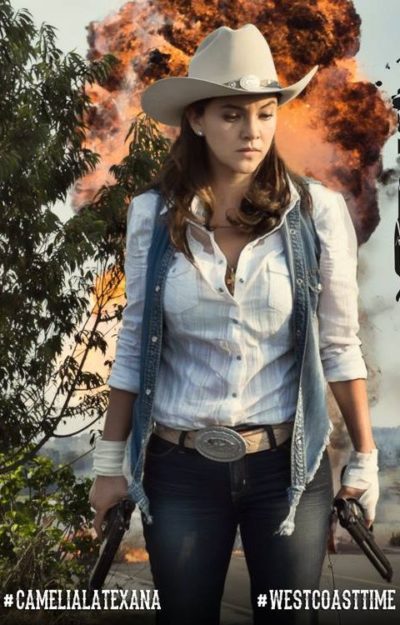 The song had previously been adapted into a 1977 film, starring Ana Luisa Peluffo and Valentín Trujillo – though the dynamic was rather different there, with the leading lady being a couple of decades older than her lover. (More than 20 years earlier, Peluffo had caused a significant scandal, when she appeared nude in 1955's La fuerza del deseo, the first such scene in Mexican cinema) The song was also adapted into an opera in 2008, and has been acknowledged by Arturo Pérez-Reverte as a significant inspiration for his novel, La Reina Del Sur. The author said, "The day I heard Camelia La Tejana, I felt the need to write the lyrics of one of those songs myself."
It's an interesting decision to set the series in the seventies, at the time the song was released, rather than in the contemporary era. Though, outside of the cars and the preponderance of vintage facial hair, it's easy to forget this is a period piece. The story is little more than a hodge-podge of telenovela cliches, semi-randomly stitched together. Emilio has a twin brother! Unexpected pregnancies! Long-lost siblings. And vengeance. Damn. So much vengeance, to the point that it was more of a surprise on the rare occasions when somebody didn't have a deeply-held grudge. Emilio's wife Alison against Camilla, for killing her husband. Don Trevino's current wife, Lu, against the previous occupant of the position, Camilla's mother, for rendering her infertile. Navarro against Camilla, for burning his face at a cockfight. And so on.
Hell, even ten-year-old blind girl Alma (Ana Paula d'León) is seeking revenge on those who killed her parents, before her adoption by Don Treviño. She's actually one of the more interesting supporting characters, because she seems to have second sight, able to see things before they happen, and act to prevent them. It's a shame the story lose sinterest in her entirely during the second half, because this concept could have developed in a number of intriguing ways. Someone with Alma's talent would be a great weapon for any drug cartel, effectively keeping them one step ahead of their enemies. She's not the only decent supporting character: "Queens of the South" La Nacha in the first half, and Concepción "La Cuquis" Olvera during the latter stages, both demonstrate it's not just a man's world.
Unfortunately, these delights are all rather minor. The great bulk of the episodes are unaffecting, not least due to a heroine whose middle names appear to be "Questionable Life Choices". If there's a poor decision to be made… Camilla makes it, with an inevitability previously associated only with characters from 19th-century Russian novels. Up until the very last episode, she's less an action heroine than a reaction heroine, and you would probably need two hands to count all the female characters elsewhere in this show, who are more interesting than Camelia. The series seems tacitly to accept this, hence falling back on a tangle of subplots in which the supposed heroine is only tangentially involved.
The series ended as it had consistently done throughout: another 10-episode arc, ending in interest being piqued once more. [Spoiler warning] Camelia became the head of the Treviño family, and took her revenge on Navarro, spitting out the line, "No man made me a legend. I chose my own life, and I'll choose my own death." But there was also a schism, with Alma and Lu heading off, suggesting they would go up against Camelia in a second series. However, it has now been more than three and a half years since the first season ended, and the chances of any sequel seem increasingly slim. It isn't too surprising. Adapting a three-minute pop song into a movie can be done: Convoy and Harper Valley PTA come to mind as examples. Stretching it into something of this length, however, is likely a remix too far.
Star: Sara Maldonado, Erik Hayser, Andrés Palacios, Dagoberto Gama