"Forest of the Dead"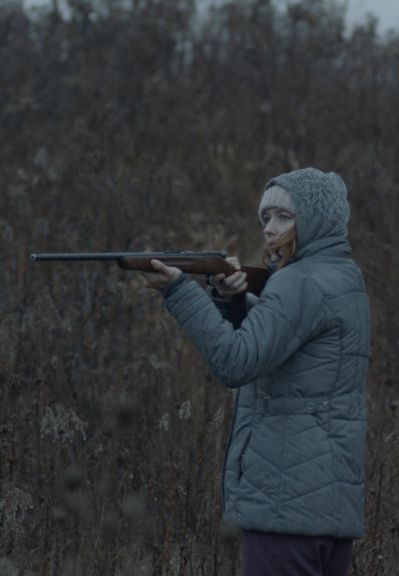 A viral plague has decimated mankind, turning its victims in mindless, flesh-craving ghouls. One of the few to have survived is Ann (Walters), who has taken up residence in the woods, where she has camped out. Ann uses the survival skills she received from her now-absent husband, Jason (West), only occasionally having to emerge and risk the threat of the infected, in order to gather supplies. Her secluded, yet relatively safe existence is disturbed, when she finds an injured man, Chris (Thompson) and his teenage daughter, Liv (Piersanti) on a road. They are supposed to be on their way north, to where the epidemic is reported to be in check. Yet Chris, in particular, seems curiously unwilling to be on his way.
If there's nothing particularly new or inventive about this version of the zombie apocalypse, it's not without its small-scale merits. Ann is far from some kind of survivalist Mary Sue: she's barely getting by, perhaps having paid less attention to her wilderness lessons than she should have. Probably wisely, for a small budget film, the infected – the term "zombies" is never used – are kept largely out of sight, heard more than they are seen. While their shrieks are unnerving enough, the tension comes more from internal forces: the opaque nature of Chris's motives, for example, or Ann's dwindling supply of bullets. The former are particularly troubling: the dynamic between Chris and Liv just seems "off" in a variety of ways, and I was not surprised when this played a part in the film's climax. However, things do not unfold in the way I expected, so credit for that.
The film does cheat a bit with regard to previous events. At the beginning of the film, Ann is already alone, and information about what happened to Jason and their child, is only doled out in teaspoon-sized flashbacks over the course of subsequent events. It matters, because these flashbacks reveal quite a lot about her character, and the way she interacts with other people: information we otherwise don't have. By not getting it until later, we end up retro-fitting it into what we've already seen, and I'm not certain the additional complexity of structure imposed, serves any real purpose.
In the earlier stages, it reminded me of The Wall, with its tale of a woman thrown back entirely onto her own resources. While that solo adventure would have been difficult to sustain, it is the most interesting and original part of proceedings. I was rather disappointed when Chris + Liv showed up, because the entire dynamic changes at that point, and the film becomes something with which I'm somewhat too familiar. While there are twists down the stretch, this rejects the chance to truly separate itself from the large pack of zombie apocalypse movies in terms of plot. Fortunately, a solid performance from Walters helps the film sustain viewer interest through the weaker second half.
Dir: Rod Blackhurst
Star: Lucy Walters, Adam David Thompson, Gina Piersanti, Shane West