"Lisbeth Salander vs. Elf"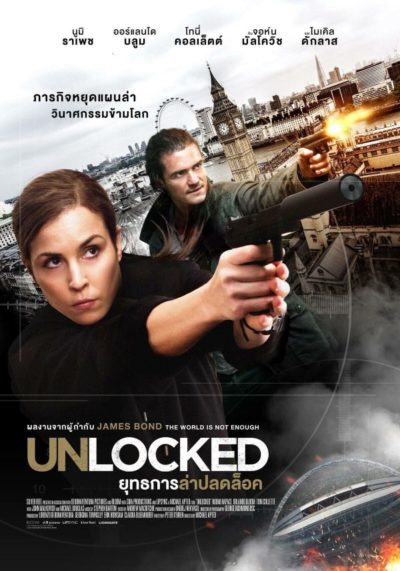 That would have been a more appealing title. Although the incredibly generic one here reflects the incredibly generic plot, which sinks this, despite the efforts of a well above-average cast. CIA agent Alice Racine (Rapace) has, at her own request, been assigned to the backwater of an East London community, after blaming herself for failing to stop a bombing in Paris. She's called out of her semi-retirement to interrogate a terrorist courier, believed to be carrying a message about an imminent biological attack on a US target in London. She cracks the subject and hands over most of the intel, only to discover the recipients are not the agency employees they claimed to be, and will kill her as soon as they get what they need. She goes on the run, unsure of who she can still trust: her mentor (Douglas), the MI-5 boss (Collette), or a burglar she encounters who happens to be a former British commando (Bloom). Can she stop the attack before it's carried out?
Yeah, if you ever wanted to see The Girl With The Dragon Tattoo go hand-to-hand against Legolas, this film is for you. Anyone else? Probably not so much. It's the kind of striking boilerplate spy vs. spy shenanigans we've seen a lot of lately. This reminded me particularly of Survivor, with Rapace standing in for Milla Jovovich, though to be honest, neither film makes much impression – and what they do, isn't necessarily good. For example here, I spotted what the target was going to be as soon as it was mentioned, and a laughably long time before the movie's characters were able to work it out. I hope American's real intelligence assets are considerably smarter than the ones depicted in this film. The way in which Bloom's character, Jack Alcott, is shoehorned into proceedings is no less clunky, and the story overall has no flow, lurching through the components to its finale (obviously not endorsed by the NFL, given the non-specific names used!).
The positives here are mostly from the performances, with the exception of Bloom, who seems woefully mis-cast – though it may partly be my difficulty in taking anyone with a man-bun seriously. Rapace gives a good account of herself, kicking ass with terse efficiency, particularly when escaping from the hotel room where she's carrying out the interrogation. Collette, previously known to us from United States of Tara, turns out to be as good with a British accent as she is with an American one, especially considering she's neither (Australian). There's also John Malkovich as the CIA boss, and he's watchable as ever, albeit underused. Seems like the Czech Republic largely stood in for London, which may help explain the limited sense of place, and Apted's direction is little better here than in one of the more underwhelming Bond flicks of recent times, The World is Not Enough. Rapace needs to keep looking for the right vehicle, one which will make use of her undeniable talents.
Dir: Michael Apted
Star: Noomi Rapace, Orlando Bloom, Toni Collette, Michael Douglas