"My super crazy ex-girlfriend."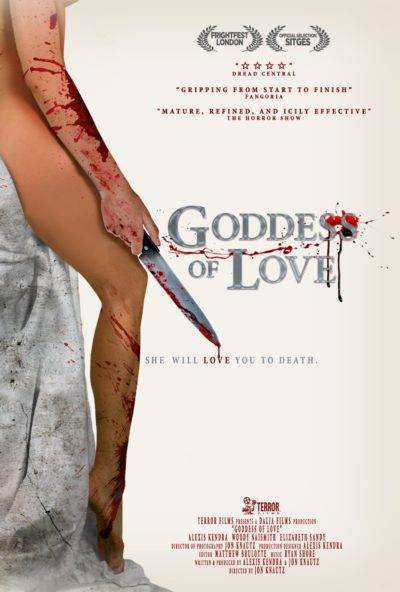 Right from the start, it's established that Venus (Kendra) is not the most mentally stable of creatures, alternating between emotional fits in the bathtub, drug abuse and her day job as a stripper. That's pretty much the trifecta of Stay Away for any man. But she ends up dating one of her strip-club customers, Brian (Naismith), a photographer who likes Venus because… she reminds him of his late wife. Which as opening lines go, I'd imagine would rank highly as Stay Away for any woman. While initially working far better than you'd expect, that only makes the eventual crash and burn of their relationship, all the more brutal.
It begins when she sees the name "Christine" (Sandy) pop up on his phone, setting off a downward spiral of insecurity and paranoia. Brian admits it's an old flame, whom he still uses as a model, but Venus suspects there's a lot more going on than photography. This doesn't endear her to Brian, who stops replying to her text messages, and tries to end their relationship. Which works about as well as you'd expect – especially if you ever saw Fatal Attraction. Venus decides that the best way to Brian's heart apparently lies through… Well, Christine's rib-cage – though getting there requires some ramping up of their rivalry. And it turns out Christine has a vicious streak of her own, when pushed far enough. But how much of what's unfolding has any basis in objective reality – as opposed to being merely shrapnel from Venus's disintegrating psychological state?
It's a tale as old as time, true as it can be: don't stick your dick in crazy. But it's still a topic worth revisiting, albeit likely for entertainment value, more than any educational purposes. The movie benefits by a good performance from Kendra, who also co-wrote the screenplay with director Knautz. That likely helps defuse some criticisms of exploitation – while the stripper angle does appear to exist, largely for titillation, Kendra the writer can hardly be exploiting Kendra the actress. On the other hand, it's not exactly what anyone would call a sympathetic portrayal of mental illness. The only person who shows even some concern for Venus's plight is colleague Chanel (Scott), and that doesn't make it to the end of the movie intact.
Still, it's not unpleasant as potboilerish entertainment, particularly when Christine and Venus start going at it. I also appreciated the gradual slide into a state where you can never quite be sure of the accuracy of what you're seeing. Everything is experienced from Venus's point of view (which is where it differs from Fatal Attraction), and the unreliability of that perspective becomes increasingly called into question as the film proceeds. Technically, it's reasonably sound, though a few rough edges did stick out, to remind me of its low-budget nature. But it's perhaps best taken as a modern-day version of a morality play: don't cheat on your significant other, do drugs, or date strippers. Rules we can all strive to live by.
Dir: Jon Knautz
Star: Alexis Kendra, Woody Naismith, Elizabeth Sandy, Monda Scott