"Don't do porn."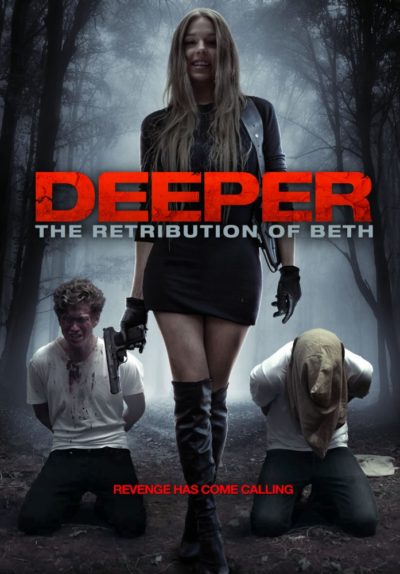 Investigative journalist Mark (Anderson) is not too happy about his latest investigative assignment: going on a ride-along with Steve (Francis), the sleazy owner of porn company "XBus". He picks up girls on the street and supposedly, talks them into getting naked for his website, Girls Gone Wild-style. But Steve's latest predatory mission doesn't go as planned, after picking up the very lovely Beth (Sam) and her friend Sam (Gatien). For Beth pulls a gun, hijacks the limo, and drives the two men into the forests on the outskirts of town, clearly with savage vengeance on her mind for an incident in her – and Steve's – past. Not quite the story Mark anticipated getting.
I read one review which complained about the moral ambiguity here, but I felt this was actually the movie's strong suit. Not that there's necessary much ambiguity for me: it's entirely possible to have no issues with pornography, while simultaneously frowning upon drugging girls in order to rape them. Seems fair enough to me. It is true that in this case, we don't discover the truth about Beth's mission until relatively late on, which goes against the grain in this kind of film. We usually start off with the crime, which creates sympathy for the vengeful heroine, and puts the audience in her corner. Here, Beth is a rather more ambivalent creature, particularly as her mission goes outside its parameters i.e. Steve, to encompass innocent bystanders like Mark.
Less successful is the injection of a randomly passing hunter into the film, and it might have been interesting if Mark had turned out to have some kind of dark secret in his past as well. He's just a bit too squeaky-clean e.g. devoted to his pregnant wife. That particular phone-call had me rolling my eyes at the excessive obviousness. I had, literally, to rewind the scene where Steve has his hands zip-tied behind him, and is somehow able to get them around his legs, and in front of him. Seriously: just put your hands behind your back, and you'll see exactly how impossible that is. It was also rather too convenient how Beth never bother with her captives' legs, even after their efforts to run away.
Overall though, this is well put together. It's well-crafted to work within its limited resources, requiring little more than two locations – the car and the woods – and the four occupants of the limo. There's a particularly interesting dynamic on the female side, contrasting the aggressive Beth, and the apparently much more passive Sam. Although, that does change over the course of the film and the view at the far end is radically different from that at the beginning. It benefits from some good performances too. Francis, for example, manages to make Steve a relatively sympathetic character, rather than being 100% douchebag. But it's Harmon who is the glue that holds this film together, even as she becomes increasingly unhinged, and a serious danger to anyone who crosses her path.
Dir: Jeffrey Anderson
Star: Jessica Harmon, Matthew Kevin Anderson, Andrew Francis, Elise Gatien