"More like, Miss Cubic Zirconia"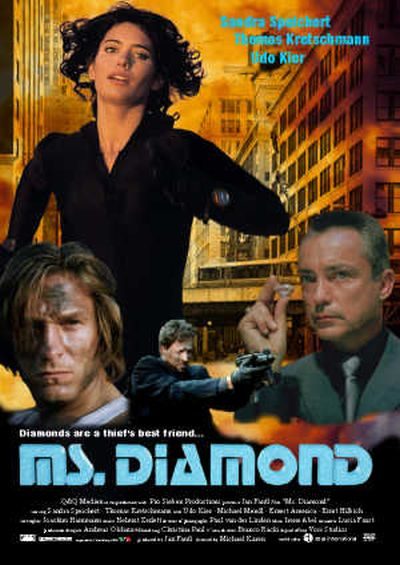 There's an exhibition showcasing the first diamonds ever mined in Germany, dug up by the company belonging to Buhler (Kier). Keeping thing safe is the responsibility of security expert Tim (Kretschmann), who doesn't realize that renowned jewel thief Lana (Speichert) has her eyes on the jewels. So they're both in for a nasty surprise, because after Lana is caught by Tim in the process of stealing them, it turns out the diamonds are completely fake. Buhler gives her an ultimatum: Lana must find the real diamonds, or she'll be handed over to the police, and to ensure she doesn't just run off, tasks Tim with keeping an eye on her. It soon becomes clear, though, that there is more to the mystery than there appears initially, and someone is very keen to stop them from getting to the truth.
This is flat and uninspired in almost every way, beginning with the complete lack of chemistry between Speichert and Kretschmann, though in their defense, the dubbing isn't exactly helping them. [Or the beloved Udo Kier, who seems to be sleep-walking through his role] However, that can't explain away the story, which is about as far from sparkling like diamonds as possible, even if you allow for the ludicrous central concept. Diamonds. In Germany. It features villains who resolutely refuse to behave with even a modicum of common sense. For example, if ever I become an evil overlord, capture my enemies, and need to dispose of them, I will kill them on the spot, not tie them up underground, with the intention of letting them be run over by a slow-moving tunneling machine.
Which brings me to the topic of the action showcased here, and unfortunately, most of it ranges from the physically impossible to the cringe-inducing. The former is showcased during that escape from the tunneling machine, where Lana somehow dangles from a chain with one foot, while simultaneously pulling the 180-lb plus Tim up off the ground. The latter sees Lana doing front flips as she is simply trotting across a roof. Who does she think she is, Catwoman? This soundtrack also appears to be composed by somebody who has listened to too many James Bond films, which simply reminds the viewer of the gulf between this and any 007 movie of the same era.
A couple of marginal saving graces do exist, just not in the central performances, main story-line or cinematic direction. I was kinda amused – perhaps unintentionally – by how crap Tim is. He's the one that's always getting knocked out, captured, falling out out boats and generally put in peril, from which Lana has to save him. Some of the vehicle stunt-work is not too bad either. But overall, what you appear to have here is little more than a underwhelming TV pilot, certainly bad enough not to make it to series.
Dir: Michael Karen
Star: Sandra Speichert, Thomas Kretschmann, Udo Kier, Michael Mendl
a.k.a. Die Diebin