"Puts the 'eve' in dry heave."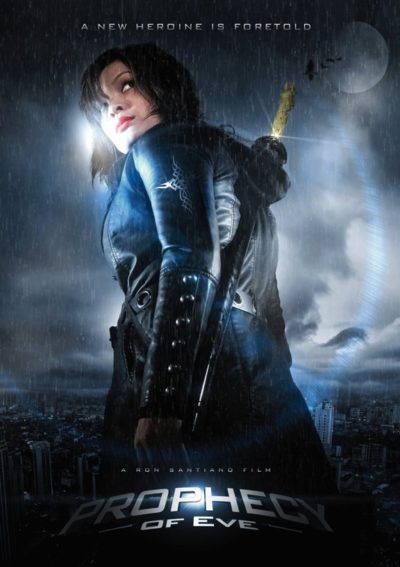 This will be a slightly shorter review than usual. For there's not much to say about a film which runs only 77 minutes, yet still somehow managed to feels both confused and full of unnecessary padding. "Well done", maybe? Certainly, as a model of what not to do, this hits all the necessary marks. It seems be set in Los Angeles, renamed Angel City, for no particularly good reason. There is a struggle between demons and those they possess – whose eyes flash red at dramatic or necessary to the plot moments – and those on the side of good, whose eyes flash green. Leading the latter side are the Order, and two of their members have, in defiance of the rules, have a child, Eve. Her parents are attacked and apparently killed by the demon-possessed, and Eve is left to fend for herself on the streets, while the Order try to locate her.
They are apparently a bit crap at the locating thing. For 15 years later (!), Eve (Villatuya) is still roaming the streets taking out bad guys with her sword. Meanwhile, demonic possessions have increased dramatically, and it appears to be connected to a certain company and its headquarters downtown. Fortunately, the Order have managed to infiltrate the place, and their operative, Esther (Maxali) has just escaped with footage showing exactly what the company are up to. Eve may be the only thing standing between the world and disaster. Or maybe not. Because the film may not even bother with anything approaching a coherent ending, opting instead to finish just when the film should be ramping up to an exciting climax.
Admittedly, any excitement would likely be a large improvement over what the movie provided to that point. Which would be a string of B-grade martial arts fights and C-grade performances. At first, I thought it was refreshingly ambitious of a Filipino production to attempt to make a movie set in Los Angeles, and quite brave of them to do so in English, when it clearly wasn't the native tongue of the lead actors. Then, I realized my mistake: this is actually American. Oh, dear. I'm struggling to find many positives, but have to say, the look of the film is rather better than you'd expect from the reported $15,000 budget. It has a nicely drenched sheen of wet neon, that appears to have strayed in from a much bigger production. The poster, too, looks slick, and promises much: unfortunately, these positive aspects only stand in sharp contrast to what the film can actually deliver.
Dir: Ron Santiano
Star: Ia Villatuya, Michelle Laurent, Nicole Maxali, Roberto Divina