"Criminal train of thought."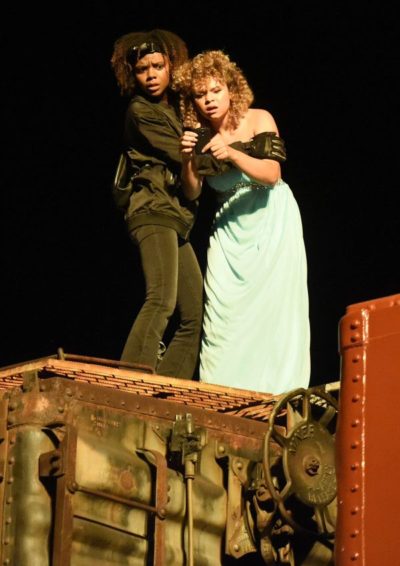 After their mother has a meltdown at her job and ends up in jail: teenage sisters Deidra (Murray) and Laney (Crow, somewhat infamous for her post-elimination meltdown on The X Factor) are left to fend for themselves. With household bills piling up – never mind trying to fund Mom's bail, or even Deidra's long dreamed-of college tuition – and Child Protective Services looming, things look bleak. But a visit to deadbeat Dad Chet (Sullivan, channeling David Spade), who works for a railway company, gives Deidra an idea. Hop aboard the freight trains that run by the back of their house, pop open a container to take some goods, and fence them on for cash. Things go surprisingly well, until a disgruntled railroad cop, Truman (Nelson), starts to close in on the pair, intent on rebuilding his reputation after an incident in Arizona.
A somewhat awkward mix of elements, some not working as well as others, it still manages to survive and be entertaining. This is largely through sheer force of will from the lead characters, who manage to make you forget the actresses playing them are both too old for high school. The pair share a fierce bond, prepared to do anything for each other, even at the cost of their own dreams – for as well as Deidra's education, Laney finds herself a finalist in a beauty pageant, which sets her at odds with her best friend at school, who is also a competitor. You know I said, some elements don't work as well as others? That would be one of them: Drop Dead Gorgeous this isn't.
It's much better off when not trying too hard to be heartwarming. For example, the reason for Mom's meltdown, turns out to be so saccharine as to provoke eye-rolling rather than tugging on your heart-strings. It has a nicely cynical edge about small-town life, such as the school guidance councilor who is as desperate as Deidra to get out of this dead-end – if only she could just get someone accepted to a college which doesn't have "community" in its name… Like most of the adults here, there's a sense of benign incompetence here: they don't so much pose a threat to our two heroines, as bumble around and get in the way of them achieving their goals.
That these involve repeated grand larceny… Well, best not dwell on the implications there, regardless of how righteous the cause may be. For the lack of effort the pair put into any legal methods of fund-raising to solve their issues, could be seen as a troubling indictment of modern youth and entitlement culture. But it would be particularly tough to blame such an adorable pair of siblings, they appear to have strayed in from the Disney Channel. All snark aside, these are fun characters to watch bounce in and out of scrapes, and you can't help pull for them as they turn into fun-sized versions of Ronnie Biggs.
Dir: Sydney Freeland
Star: Ashleigh Murray, Rachel Crow, Tim Blake Nelson, David Sullivan