"Majors in stunning visuals; minors in everything else."
I really wanted to like this. Seriously, this had the potential to be thoroughly kick-ass, innovative and visually stunning, in a way never before seen in action heroine cinema. However, the end result is only somewhat kick-ass, and might have felt more innovative. if Ghost in the Shell hadn't already been strip-mined for ideas over the past two decades, as noted over the weekend, by everyone from James Cameron to the Wachowskis. Rather than pushing the imagination envelope further, Sanders and the film's script seems content to coast along on the original ideas, and these are no longer as cutting-edge as they need to be.
The story still concerns the Major (Johansson), here the marginal survivor of a terrorist attack, who has her brain transplanted into an entirely artificial body by the Hanka Robotics corporation. She has become the top operative of a government security group Section 9, working alongside somewhat-cyberized Batou (Asbæk) and the still entirely human Togusa, under the command of Aramaki (Kitano). Hanka becomes the target of a series of cyber-terrorist attacks, investigated by the Major, despite experiencing "glitches" of audio-visual hallucinations. The culprit is revealed to be a hacker known as Kuze (Pitt). Turns out he has more than a slight connection to the Major, being in possession of disturbing information about her origin, as well as her life before becoming a full-body cyborg.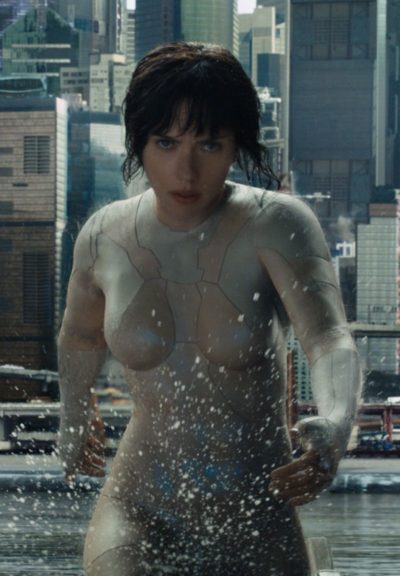 The story has a very clever approach to the whole "whitewashing" controversy: at least initially, rather than Motoko Kusanagi, she has been reinvented by Hanka Robotics as Mira Killian, who give her a whole new set of memories, which may or may not be accurate. It's this quest for her real identity which drives the plot, containing more than a few echoes of Robocop. And that's an illustration of the main problem here: it feels less like anything cutting edge, than a conglomeration of elements taken from films which has gone before. That half of these stole from the animated Ghost, doesn't help the live-action version much.
There are are some aspects which work. It looks lovely, and I can't say I felt shortchanged by having gone to the cinema to see it: though even here, it's like Blade Runner with less rain and more daylight. The cast are good too. Johansson has the correct deadpan approach, Asbæk is ideal for the hulking Batou and Kitano knocks it out of the park, as the most bad-ass bureaucrat you've ever seen [this will be absolutely no surprise if you've seen classic Kitano films such as Violent Cop]. However, in action, it only works in intermittent moments, such as the raid against the hacked geisha robots, or the battle against the spider-tank – the latter certainly lives up to expectations from the other versions.
The aspect which did work better than in the animation was the blurred line between humans and cyborgs, which is more striking when you have real people involved. There's one scene, for instance, where Kuze is talking to the Major, and he simply reaches out and lifts a quarter-panel of her face off. It's a startling image; truth be told, perhaps too startling, as I spent the rest of the scene thinking, "SCARLETT JOHANSSON IS MISSING PART OF HER HEAD!" rather than about the conversation between the two characters. I've also heard a number of people say this was a case where 3D genuinely improved the experience – we saw it in 2D, in deference to Chris's motion sickness, which ended 3D viewing for us at Avatar.
At a brisk 106 minutes, it doesn't hang around, though the story appears to shift gears at about the half-way point, and becomes more focused and driven. It's still barely able to scratch the surface of the universe: having watched four movies, 52 TV episodes and four hour-long OVAs over the past couple of months, I was painfully aware of how much was going on that had to be utterly discarded here – yet they still found time to include a number of scenes e.g. the water fight, which felt inserted, purely as homages to the original material. Did appreciate the way languages were completely fluid: Aramaki spoke all his lines in Japanese, yet the Major was entirely in English, as if this was as much a stylistic choice as the shape of your "shell."
Unfortunately, it looks like this will likely be one and done for the franchise, with the film being crushed at the North American box-office by – pardon me while I throw up – Baby Boss. If the makers are to recoup their investment, it will need to follow in the footsteps of Resident Evil: The Final Chapter, and perform well in overseas markets. [RE: TFC has now taken 11x as much in foreign markets as it did in the US/Canada] Action heroine fans will be hoping for better results on June 2, when Wonder Woman opens.
Dir: Rupert Sanders
Star: Scarlett Johansson, Michael Pitt, Pilou Asbæk, "Beat" Takeshi Kitano