Science-fiction writers largely whiffed on predicting the Internet: as a sweeping generalization, they were too busy with rocket ships and flying cars to see the biggest change in human society since the invention of the internal combustion engine. William Gibson's "Sprawl" trilogy (Neuromancer, Count Zero and Mona Lisa Overdrive), which began in 1984, is a rare example which saw how the interconnectedness of people and things would become an everyday part of life, for better and worse. But one of the more accurate projections of our networked future was a Japanese manga series, first published in 1989: Masamune Shirow's Ghost in the Shell, which has been powerfully influential since, from The Matrix through to HBO's Westworld.
It was not Shirow's first foray into the interface between man (or, more frequently, woman) and machine. He began in 1983 with Black Magic (made into Black Magic M-66), which preceded The Terminator in its story of a journalist trying to save a young woman from a relentless android. This was followed two years later by Appleseed, a series which according to Wikipedia, "merges elements of the cyberpunk and mecha genres with a heavy dose of politics, philosophy, and sociology." Sound familiar? 1986's Dominion then introduced readers to the fictional setting of Newport City, which would also become the home for Major Motoko Kusanagi, the protagonist of Ghost in the Shell.
The world
It is the near future. The world has become highly information-intensive, with a vast corporate network covering the planet, electrons and light pulsing through it. But the nation-state and ethnic groups still survive. And on the edge of Asia, in a strange corporate conglomerate-state called 'Japan'…
So opens Ghost in the Shell. First published as a serial in Young Magazine, it began in April 1989, and was set, at that point, forty years in the future. By this point, technology has advanced to a level where every aspect of humanity, physical or mental, can be augmented by prosthetic devices. Almost everyone has taken advantage of at least a few upgrades. Some, such as Kusanagi, have embraced the concept to such extent they have entirely artificial bodies in addition to a "cyberbrain". This enhanced version of the organ can be transferred at will between physical forms, and allows direct connection into information networks.
However, these innovations are not without their downside. If something is networked, it can be hacked. And if it can be hacked, it will be hacked, leading to potentially lethal acts of cyber-terrorism. These can be deadly, not only to the direct target – for if you can take over someone's brain, they can then be used as your "puppet," to commit further crimes. The hacker can even implant false memories into the victim, covering their tracks. Such sophisticated criminals require equally sophisticated law-enforcement, and this is where Section 9 come in. Led by Major Kusanagi, and operating under the watchful gaze of bureaucrat Daisuke Aramaki, they have the freedom of action necessary to tackle the most difficult cases.
It's not just technology that has changed from the current time. Between now and then, there have been two further world wars: the third was nuclear, and the fourth was not. The net result has been the break-up of several world powers into smaller fragments. Most notably, the United States of America split off two sections, leaving only nine states behind. The American Empire occupies the South and East, while the Russo-American Alliance controls the West coast and North-East corridor. This seems eerily prescient too, with some in California currently contemplating secession. Let's hope the American Empire's bloody and brutal invasion of Mexico, included in the future world here, does not come to pass as well.
Japan, however, survived the two global conflicts relatively well, and has developed into a superpower. While some areas were hit with nuclear weapons in WW3, "radiation scrubbing" technology was developed, which meant these were not long-term wastelands and could be rebuilt relatively quickly. It remains a democracy, though as the opening text suggests, it's an occasionally fragile one, with pressures from interested parties – in particular corporations – creating a dynamic tension between the needs of business and individuals. As a result of the wars, there are also a significant number of refugees from other Asian countries, which cause tension and represent a serious political powder-keg.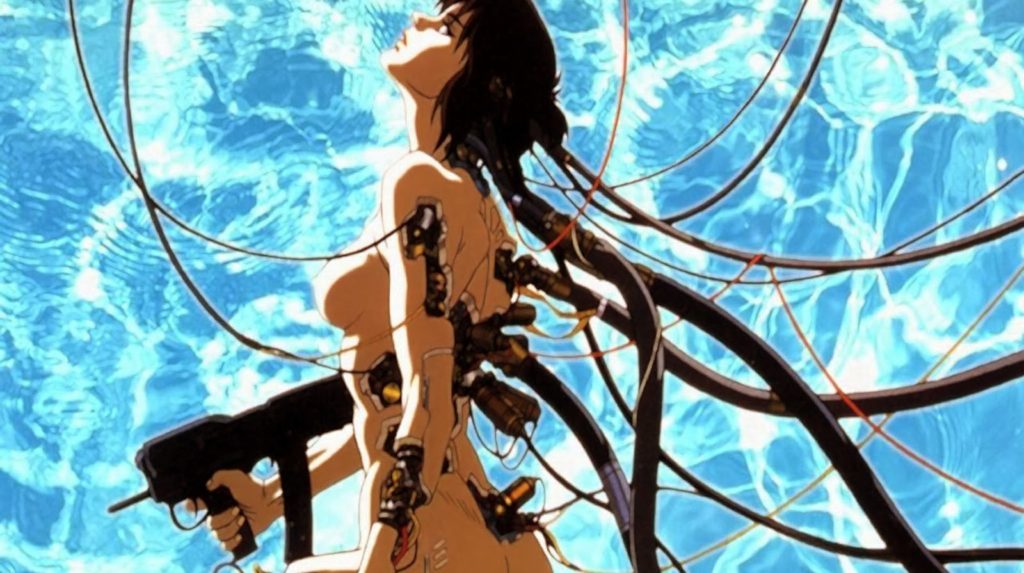 The Major
The heroine has had almost as many forms as there have been adaptations of the manga. Which is not a problem, because this is a universe where, if you want, you can change your body as often as your socks. It's also why the criticisms of "whitewashing" leveled at the film for casting Scarlett Johansson never made any sense to me. Kusanagi can take any shape she wants, because her body is entirely artificial. The Major has described herself as nothing more than a fist sized clump of brain cells, without her robotic body. How she looks is purely an aesthetic choice. And, let's face it: if I were a woman, and could look like anyone I wanted, ScarJo would be a more likely selection than most.
However, the differences are not limited to how she appears: indeed, in some incarnations (Ghost in the Shell 2), she has abandoned entirely any definitive physical semblance. The Major's personality is also subject to variation: the anime version is a great deal more stoic than the manga one, where she appears to have come to a fairly happy place with regard to her situation. In the films, she worries frequently about whether or not she is still human – and what that even means. Another aspect which separates her from most of her contemporaries in Section 9, is that she went through full cyberization at a very early stage in her life. Although the details are murky (and also vary, depending on the adaptation), it appears she has been living an entirely artificial life, virtually for as long as she can remember.
Let's talk about sex. Shirow has had a reputation as a bit of a lech, since virtually the start of his career. It's an aspect which seems to have increased in his work over time; while he has almost abandoned linear story-telling, his latest artwork book is called Greaseberries, and is about what it sounds like. But even relatively early, content was controversially removed from the Japanese version of the manga, for its original American release: pages which depict the Major's sideline, involving sex software called "Endorno." [For the curious. You're welcome! NSFW, obviously] Many of the Major's costume choices also seem to come from Stripper Couture R Us, even if somewhat required by the plot, e.g. that skin-tight bodysuit is really necessary for her thermo-optical camouflage. Honest! Just don't ask why her head doesn't need it…
Yet curiously, actual fornication is largely missing from the Shell universe, particularly in the animated versions. Perhaps it's the result of Kusanagi's cybernetic nature, with her body just a tool for the job? Indeed, love is equally notable by its near-absence. Actually, this is among the things which I find most refreshing about her as a heroine: she's not defined at all by traditionally feminine conceits like romantic relationships or family values. These tend to get shoehorned in far too often to action heroines, and most of the time (I admit, there are some exceptions), do little more than bring proceedings to a grinding halt, and get in the way of the fun stuff. This diversion of energy isn't a problem with the Major: she had little or no interest in affairs of the heart. "Career oriented" doesn't even begin to describe it.
The influences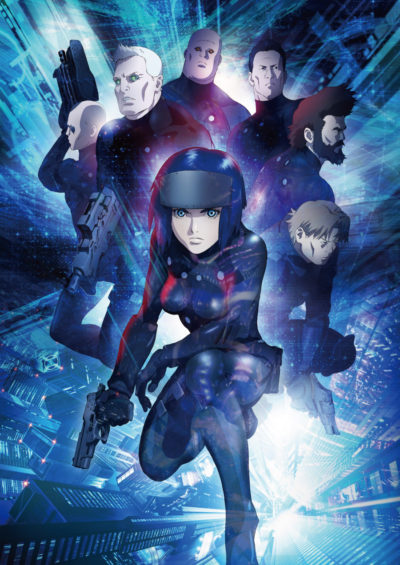 The 1995 movie of Ghost in the Shell is not the first large-budget attempt at putting the "cyberpunk" world on the big screen. It was beaten to the punch, by a few months, by Johnny Mnemonic, an adaptation of a William Gibson short story, starring Keanu Reeves. The less said about it, probably the better, though coincidentally, Takeshi Kitano is in both it and the live-action Ghost. I'll just leave you this sentence from another review: "After Henry Rollins is crucified by a fundamentalist Christian assassin played by Dolph Lundgren whose catchphrase is "Jesus time!" (AWESOME), Keanu and his sidekick Jane eventually hook up with the Lo-Teks, a gang of outlaws in the ruins of Newark led by Ice T and a cybernetic dolphin." Yeah, Unsurprisingly, it was a critical flop then, and hasn't exactly improved with age.
The reviews at the time of release for Ghost were stellar in comparison, though still mixed. It's one of those films whose impact and relevance only becomes apparent over time. Like Blade Runner, you wake up one morning and suddenly go, "Holy shit, we're living in that movie." Okay, we may not quite yet be seeing the cyberization seen in Ghost; yet we're getting there, in terms of the amount of time people spend interfaced into virtual worlds, from Facebook to Netflix. Consider this: 1989, when the original comic was published, was the same year Tim Berners-Lee invented the World Wide Web. Even by 1995, there were less than forty million users of the Internet world-wide, the majority in the United States, and just 23,500 websites. [Working eight hours a day, you could spend a minute on every website, and see the entire Internet in under seven weeks.] The relevant figures in 2017: 3.77 billion users and about a billion sites.
The film-makers who have acknowledged its influence include virtually all the heavy hitters of genre cinema: James Cameron, Steven Spielberg and, most obviously, the Wachowski brothers sisters siblings. When they pitched their idea for The Matrix to their producers, they showed them the Ghost in the Shell movie and said, "We want to do that for real." Spielberg would make AI: Artificial Intelligence and Minority Report, reflecting ideas explored in Ghost, and his studio, Dreamworks, are behind the live-action version, having bought the rights all the way back in April 2009. Cameron provided a glowing quote for the DVD release, and the transference of personalities seen in Avatar seems to bear a debt to Shirow's creation.
It's a two-way street, naturally. Ghost was influenced by what had gone before, and it's also notable for being a rare anime film co-funded by Japan and Western companies. The results straddle cultures and have stood the test of time better than most of its contemporaries, animated or live-action. It will be interesting to see whether the latest version proves to be so well-regarded and influential, more than two decades after it comes out.
Related posts
The art of Masamune Shirow
Note: some of the images below are not safe for work.