"Ring around the poses."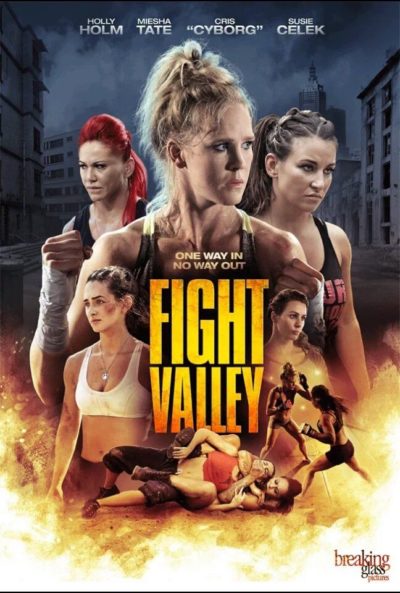 The results of bringing female MMA fighters to the screen have been a bit mixed, shall we say. Gina Carano has looked decent in her films, but Ronda Rousey's performances have been roundly criticized, and her Mile 22 project appears dead in the water. The performance by the recently retired from MMA Miesha Tate, which is likely the film's major selling-point, rates… somewhere in the middle. She doesn't disgrace herself – but that may be partly because there is no shortage of other weaknesses to criticize here. Tate is convincing in her role – yet since she's playing a mixed martial-artist, it's hardly proof of any acting ability. But I guess, everyone has to start somewhere, and a thinly-disguised version of yourself is a good place to begin.
The film's heroine, though, is Windsor (Celek), part of a separated family. She lives with her mother in a well-to-do part of New Jersey; her sister, Tory, lives with Dad in a far more dangerous neck of the woods, and is persistently getting into street brawls. Tory asks Windsor for money and is spurned, only to turn up beaten to death later. Windsor goes slumming to investigate, with the help of Tory's lesbian lover, Duke (O'Brien), and discovers her late sister was involved in underground fights. In the time-honoured trope of B-grade martial-arts films, Windsor decides to strap on the gloves so she can find and take revenge on Tory's killer, convincing the reluctant Jabs (and this character is where Tate comes in) to train her for this purpose.
According to the IMDb, the budget here was twenty-seven million dollars. If true, I have no clue quite where that went, because this is absolutely the kind of film that could be churned out for a a million and change. It's not like there are any name stars here, unless you count the bevy of UFC people who show up in minor roles: as well as Tate, the film also includes Cris Cyborg, Holly Holm and Cindy Dandois, among others. Though despite the poster shown, the non-Tate roles are barely cameos. Certainly, the script consists of little more than a selection of random clichés, as it lumbers towards a conclusion you would have to be legally blind not to see approaching. Hawk's background in music videos is painfully apparent, and O'Brien is the only person here who comes out with much real credit, playing Duke in a way that is credible and, hence, surprisingly scary. She isn't someone whose drink you'd want to spill in a bar, put it that way.
What sinks the movie is Celek, who is woeful: thoroughly unconvincing at every step of her implausible journey from Disney princess to hard-as-nails brawler, supposedly capable of going toe-to-toe with Cyborg. If they'd kept the film on the streets, since it does a semi-decent job of capturing a world where everyone operates on a hair-trigger, and had Duke trying to revenge her lover's death, this might have had a chance of being more than the thoroughly forgettable project, deserving little more than a quick, straight-to-video death.
Dir: Rob Hawk
Star: Susie Celek, Erin O'Brien, Miesha Tate, Cabrina Collesides