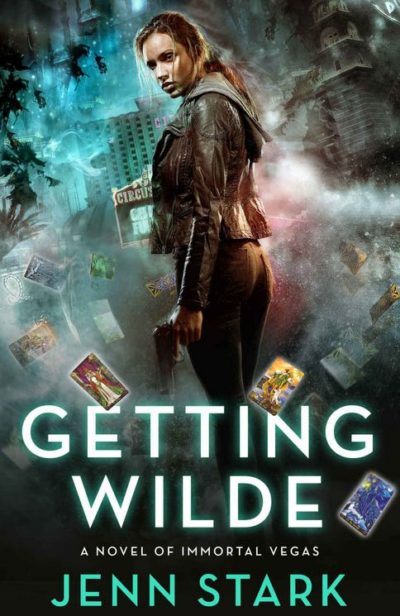 I initially thought I had a fairly good handle on where the first book in the Immortal Vegas series (currently at six entries, plus a prequel) was going, with a Lara Croft-esque lead, who specializes in locating and recovering ancient artifacts. You can also throw in fragments of The Da Vinci Code, since she is hired to retrieve a relic from the secret basement beneath the Vatican, and is going up against a cult of religious, Catholic fanatics. But it somehow ends up taking a sharp right-turn, ending up in a version of Las Vegas where, just out of phase with the casinos and hotels, lurks a hidden dimension of other venues, populated by…
Well, probably best to rewind a bit. For in this universe, magic is real, albeit not apparent to the vast majority of the population. Some, particularly sensitive types, have an affinity for it, in one way or another, giving them abilities such are remote viewing or precognition. These are the Connected, and our heroine Sara Wilde is one of them. She started before she was even a teenager, using a talent for locating missing things to help her local police. But after a tragic incident, she was forced out on her own, and now wields her skill in the pursuit of material objects.
Meanwhile, the Arcana Council – largely formed of characters out of the tarot deck, e.g. the High Priestess, the Magician and the Devil – are based in that alternate Vegas strip. They seek to maintain the balance between good and evil, preventing either from prevailing, and that's becoming a problem. For the increasing intersection of technology and magic is being exploited by those who want to benefit from the resulting synergy – they don't care how many lives have to be destroyed in that process. Which is where Sara comes in, as exposure to a psychoactive drug turns her into a seer, and she unwillingly takes on that mantle, to protect the innocent alternatives.
If it sounds rather complex and confusing, that's about right. You'd expect the first book in a series to set out the universe and its rules fairly clearly. But here, you're largely dropped in to the middle of things, then have to try and figure out what's going on, from nuggets dropped by Sara almost in passing. Maybe previous knowledge of Tarot might help? It also suffers from incompleteness, a sadly common trait in e-books; Stark sets up the characters and plot, then more or less ends in "Buy volume 2!" rather than offering any resolution. The book's attitude to sex is kinda weird as well. Wilde doesn't actually have any, but comes perilously close on multiple occasions, to the extent this seems like some kind of edging fetish.
But you shouldn't take the above to mean it's all negative. In particular, Wilde is a very well-formed character. She's clearly a heroine, willing to put herself in harm's way (both physically and psychically) to protect others, out of genuine concern for their well-being. Yet she's far from flawless, carrying her own share of historical baggage, and has a sarcastic wit to which I can easily relate. Stark has a good eye for her settings too – having been to Las Vegas, it would be the perfect location for a supernatural governing body to set up their operations, just out of sight behind the lurid facades.
I'd probably have liked to have seen more action out of Sara. Her first excursion, into the depths beneath of the Pope's palace in Rome, is almost an occult Indiana Jones escapade, and she clearly is capable with more than just her mind. But after that, there is a lot more talk than walk, save perhaps for her helping bust loose some unwilling participants from behind a sleazy casino, in an even sleazier back-room. Hopefully, future entries will have more of this, and she won't be stuck doing remote viewing for the High Priestess, which is where she ends this volume. I'd probably be interested in another adventure, given the potential here; yet there are enough flaws, it could all end up being thoroughly wasted.
Author: Jenn Stark
Publisher: Elewyn Publishing, available through Amazon in both printed and e-book versions.