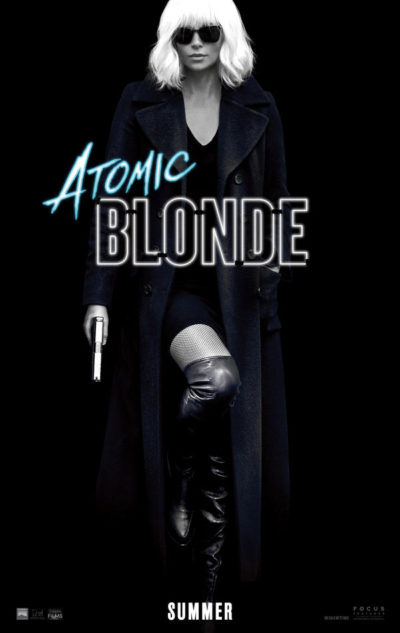 Charlize Theron has been an interesting character and action-heroine contender since 2004's Aeon Flux. She also impressed as Queen Ravenna in Snow White and the Huntsman and The Huntsman: Winter's War, before blowing the roof off the place in Mad Max: Fury Road. She's also heavily featured alongside action icons Jason Staham and Dwayne Johnson in the upcoming Fate of the Furious, in which she plays a villainess with a fondness for remote-controlled cars. But as the trailer for her latest film (below) shows, she might only be getting started.
Atomic Blonde is set at the end of the eighties, in the dying days of the Eastern Bloc, and she plays Lorraine Broughton, a British spy sent to Berlin to break open a Communist spy ring. They have already killed a colleague, and are apparently involved in the insertion of double agents into the West. It's up to Lorraine and station chief David Percival (James McAvoy) to dismantle the threat.
What particularly made me sit up and take notice about this project, was that it's directed by David Leitch, who was co-director of the excellent John Wick. Going by the trailer, this appears to bring much the same hard-hitting approach to its action: check out in particular, the opening stairwell brawl, apparently filmed in one shot, which represents a glorious and very welcome reaction to the hyper-cut hell which was too much of Resident Evil: The Final Chapter. Bonus points for incorporating both a cover version of "Blue Monday" and the original of "Killer Queen" into the trailer.
It's based on a graphic novel by Antony Johnston and Sam Hart, The Coldest City, and also stars John Goodman, Eddie Marsan, Sofia Boutella and Toby Jones. The film gets its world premiere at SXSW this weekend, so we should start to hear reviews etc. before long. The rest of us, however, will have to wait for a while, because Atomic Blonde will not be exploding into cinemas in the rest of America, until July 28.
Think I'm going to be circling that date in the calendar… Anyway, here's the trailer to tide you over until then!