"James Cameron's lawyer, on line one…"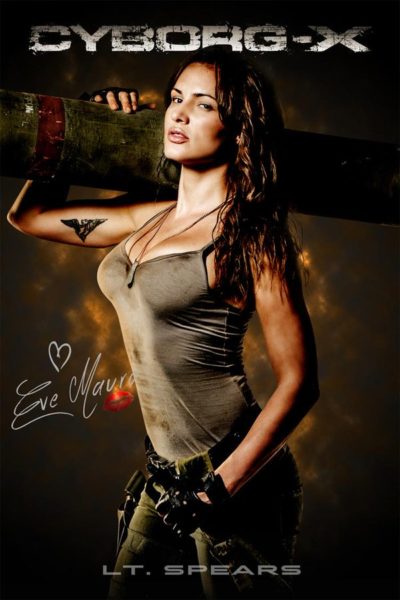 Maybe the makers of this should just have been honest, and called it Terminaliens. For the amount of wholesale theft that has gone on here is really quite staggering. It takes place in the nearish future after a weapons research program goes haywire, and the cyborg results start attacking humans all over the globe. It's up to a band of freedom fighters to attack the central computer complex and disable the system before humanity is entirely wiped out. Through in an adorable moppet young girl, who falls under the protection of the heroine, along with some crawling through air-ducts, and you've got a homage to James Cameron – back when he was good, rather making three-hour epics about doomed icebergs.
The main thread has heroine Lieutenant Spears (Mauro) rescuing Jack Kilmore (Myers), an X-Corp executive who holds the key to infiltrating his company's former HQ. You may have to resist the urge to yell "He's a cyborg!" at your television set, but that's actually just Myers's style of acting. There's also Col. Shaw (Johnson), who smokes cigars and yells a lot, while the nerdy Wizkowski (Stormoen), has a name which seems curiously close to being another Aliens rip-off… Finally there's even a tough Hispanic chick, Lopez, who – in full keeping with the Aliens approach – is played by the thoroughly non-Hispanic Angie Papanikolas.
One upgrade on Aliens is that Danny Trejo shows up for a bit, as another one of the soldiers, which is nice. We love us some Danny Trejo. He would likely have made Aliens  Otherwise, the rampant plagiarism is all a bit of a shame, since some of the other aspects aren't bad. The CGI drones which are Skynet's X-Corp's surveillance system are nothing to write home about, but the more practical effects are solid, with some surprisingly gory moments. One woman gets the front of her head blown off, while later, a man is cut in half, and left to crawl along the ground, his intestines trailing behind him. Meanwhile, Spears manages to kick ass while looking decent doing it, even when yanking a Very Large Bazooka out of nowhere. Fortunately, supplies of beauty products apparently have not been interrupted by this apocalypse.
This wouldn't be out of place on the SyFy channel, and stands up decently enough against others of its ilk. If you haven't seen the Terminator series or Aliens, you would probably enjoy this a good deal more – though if so, that does beg the question, why are you watching the SyFy channel? But I just wish the makers had put more effort into creating a plot that was not so tired and over-familiar. If the resources devoted to this had been applied to an original story-line, it could have been a small gem, rather than feeling like a lame rip-off of genre classics.
Dir: Kevin King
Star: Eve Mauro, Rocky Myers, Adam Johnson, Jake Stormoen