"Not the promised thrill adventure of a lifetime."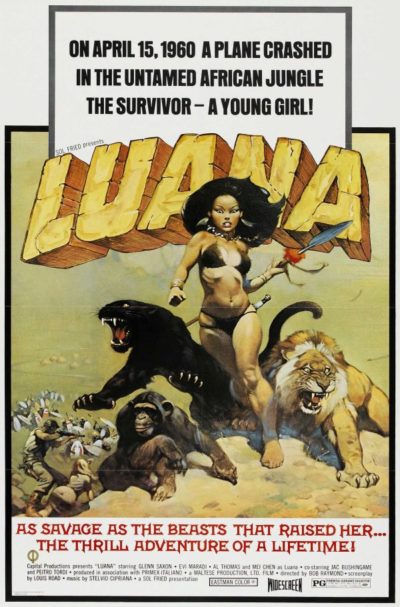 Despite a broad range of impressively kick-ass posters, in which renowned artists Frank Frazetta and Russ Manning had a hand, the heroine of the title (Chen) is much more of a supporting role than the star, and that's a disappointment. While competently made, compared to others of the genre, its failure to deliver what the advertising promises, and indeed much jungle-girling at all, earns it a significant downgrade. The backstory is more or less the usual: a plane crash in darkest Africa leaves one survivor, the three-year-old daughter of a scientist and an Asian princess(!), who somehow survives in the rain-forest. She grows up to wander round her domain with a chimpanzee sidekick, wearing nothing but a loin-cloth and hair that magically affixes itself over her breasts, this being a firmly PG-13 rated jungle romp.
However, the real stars are the scientist's other daughter, Isabel Donovan (Marandi), who is seeking answers to her father's disappearance, and jungle guide George Barrett (Saxson). He knows of Luana, having been rescued by her after being attacked by savages on a previous trek into the jungle. Also along on the trip is her father's partner, the somewhat creepy Norman (Tordi), who appears to have a more than guardian-like interest in Isabel. It soon becomes clear that "someone" – and let's be honest, you deserve no prizes for guessing who, 30 seconds after they show up – doesn't want the truth about the crash to be established. Meanwhile, Luana is lurking on the edge, saving her sister from a spider, stealing her clothes when Isabel takes a dip, etc.
It's a definite shame there wasn't more Luana, as her character possesses a sweet innocence which is quite endearing, and certainly more fun than watching the bland Isabel and George traipse through another section of faux-jungle or react to the usual stock footage [though this is integrated somewhat better than usual]. For example, witness the scene where Luana tries to figure out how to use a bra; it's naively charming, and I'd have loved to have seen more of this angle. Indeed, the script itself is solid enough, with a number of sequences which clearly have potential. For example, there's George arm-wrestling a tribesman, with scorpions set up on either side to greet the loser with their sting. The film also has a carnivorous plant. How can you go wrong with a carnivorous plant?
The answer appears to be director Infascelli, operating under a pseudonym, as he manages to suck the excitement out of every sequence, courtesy of pedestrian execution. But one final anecdote will sum up the overall ineptness here. When the film got US distribution, Ballantine Books commissioned Alan Dean Foster to write a novelization However, the only available copy of the script was in Italian, so Foster wrote a new novel based on the Frazetta poster. I can't help thinking any film based on that would likely be rather better than the actual movie.
Dir: "Bob Raymond" (Roberto Infascelli)
Star: Glenn Saxson, Evi Marandi, Mei Chen, Pietro Tordi