"Roc beats Swallow"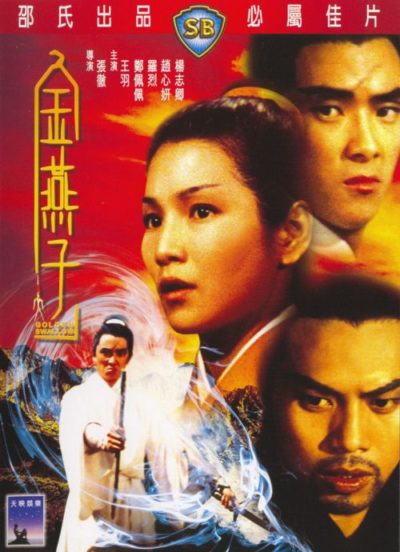 If this seems somewhat familiar, it's because it is not dissimilar to Iron Swallow, reviewed just a couple of weeks back. However, this is the official sequel to Come Drink With Me, in which Cheng reprises her character of Golden Swallow, rather than being the Taiwanese knock-off. Ms. Swallow is living a fairly quiet life, fighting for the rights of the underdog, etc. along with the aid of Golden Whip (Lo). Their peace is disturbed by the actions of Silver Roc (Wang Yu), who is carrying out various massacres, and leaving Swallow's trademark darts at the scene, in order that she gets blamed for the crimes.
Turns out this is Roc's idea of courtship, figuring it'll force Swallow to track him down – and not with the aim of serving a restraining order, as I'd have said was more likely. Odder still, this "massive body count in lieu of a bouquet of flowers" concept actually appears to work, at least piquing Swallow's interest, and thus setting up a love triangle between Swallow, Roc and Whip. It's only interrupted by the arrival on the scene of Poison Dragon (Yeung), and the two suitors put aside their scheduled duel to the death on top of a mountain, in order to take care of the real villain.
Despite the title – particularly the alternate one, which promises a whole level of action the film isn't interested in delivering – and lead billing, this is significantly less about Swallow than Roc. And that's a shame – Wang Yu would get plenty of his own opportunities to shine, he didn't need to be hijacking the limited chances given to Cheng. Took me a little while to work out, too, that his character is named after a mythical giant bird, not a boulder. The references to "soaring rocks" were quite confusing for a while, until I figured this out.
The fights are okay, rather than impressive. They're certainly not helped by Chang's style, apparently an early ancestor of the MTV style of shooting action. This involves the camera being pushed too close in to capture the skills of the participants, and a primitive version of steadicam, which is certainly not steady in the slightest. I didn't like it. I had high hopes for a scene which began with Swallow sitting quietly in a tea-house, which seemed to be echoing one of the most memorable sequences from Come Drink With Me, but it was little more than a nod, and was over before it had properly begun.
I wasn't all that impressed with Drink, finding it more influential than entertaining. But it is still considerably better than this, which never gets off the ground thanks to a laughable plot, and carries out something perilously close to a bait and switch, with the heroine of its title reduced to a supporting role. What a waste of Cheng's talents.
Dir: Chang Cheh
Star: Cheng Pei-pei, Jimmy Wang Yu, Lo Lieh, Yeung Chi-hing
a.k.a. The Girl with the Thunderbolt Kick