Looking back at last year's preview, it's interesting to note the hits, misses and no-shows from the films previewed there. Lucy and Maleficent performed above expectations, although both are still almost certain to be out-grossed handily before long (if not already!), by the third Hunger Games movie. On the other hand, Kite ended up basically going straight to video, and Resident Evil 6 has now been pushed all the way back to 2016, due to Milla Jovovich becoming pregnant again. So, take all of what follows with an appropriate pinch of "card subject to change," wildly variable release dates and no guarantees, considering in some cases I'm going off a one-sentence synopsis on the IMDb.
Barely Lethal (TBA)
Still no sign of this one, so let's just copy paste from 2014! "A 16-year-old international assassin yearning for a "normal" adolescence fakes her own death and enrolls as a senior in a suburban high school. She quickly learns that being popular can be more painful than getting water-boarded." I'm not sure who came up with that synopsis, but they likely deserve some first-hand experience of waterboarding. Cute title, even if it does feel rather too close to the lacklustre school plot from Kick-Ass 2. Chris will probably be up for this, since she thoroughly enjoyed director Kyle Newman's Fanboys. Hailee Steinfeld plays the hit-teenager, Megan, and Jessica Alba is former employer Victoria Knox, who smells a rat and heads in pursuit. Samuel L. Jackson and Sophie Turner (Sansa Stark from Game of Thrones) are also involved.
Crouching Tiger, Hidden Dragon: The Green Legend (August 28)
Another hangover from last year, we're still eagerly anticipating this due to the directorial presence of Yuen Wo-Ping, and those in front of the cameras, Michelle Yeoh and Donnie Yen. The martial arts will kick ass, there seems little doubt. But will it pack the same emotional wallop of the original? There has been a twist to the distribution too, with the film being released simultaneously in cinemas and on Netflix (who are co-producers on the $60 million production), though some theatre chains are boycotting it as a result. AMC sniffily said in a press release, "No one has approached us to license this made-for-video sequel." Their loss, I'd say.
The Godmother (TBA)
According to Wikipedia, Griselda Blanco was a drug lord of the Medellín Cartel and a pioneer in the Miami-based cocaine drug trade and underworld during the 1970s and early 1980s. She was also known as La Madrina, the Black Widow, the Cocaine Godmother and the Queen of Narco-Trafficking, After spending the best part of two decades in jail, she was deported back to Colombia in 2004, and was killed in a drive-by shooting in 2012. Now, there's a movie being made about her life… starring Welsh actress Catherine Zeta-Jones. Well, that's an adventurous bit of casting, to say the least. I've seen pics of Blanco and Zeta-Jones didn't come to mind, shall we say. Mind you, Al Pacino wasn't Cuban either.
The Hunger Games: Mockingjay – Part 2 (November 20)
Already filmed, having been shot back-to-back with part 1, it's now just a question of how big this will be. The success of the first half should give us a clue, but this seems virtually certain to become the biggest action heroine film of all time, and could well be the first ever to take a billion dollars worldwide [Part 2 ended at $865 million, and the last part of, say, Harry Potter, a similarly two-part split, bumped its return up about 50% over its immediate predecessors]
Into the Forest (TBA)
"In the not too distant future, two young women who live in a remote ancient forest discover the world around them is on the brink of an apocalypse. Informed only by rumor, they fight intruders, disease, loneliness & starvation." The two women are played by Ellen Page (Whip It) and Evan Rachel Wood, and it's an adaptation of the novel by the same name, written by Jean Hegland.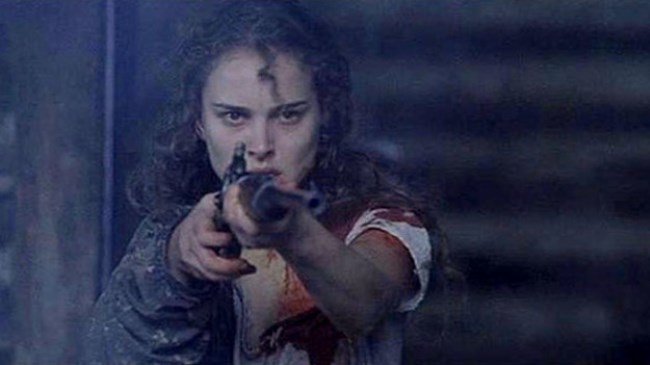 Jane Got a Gun (February 28)
Having apparently survived losing its director and chief villain Jude Law, the hits kept on coming, with the film also losing Law's replacement Bradley Cooper, with Ewan McGregor coming on, in a reunion of sorts with heroine/co-producer Natalie Portman. However, that wasn't enough to save the film in April from having its release date pushed back six months past the originally scheduled one of August. The month of February is not a great spot on the calendar, and one wonders if this will end up effectively being buried. The plot, in case you'd forgotten: "After her outlaw husband returns home shot with eight bullets and barely alive, Jane reluctantly reaches out to an ex-lover who she hasn't seen in over ten years to help her defend her farm when her husband's gang tracks him down to finish the job."
Momentum (TBA)
During a carefully conceived heist, one of the participants, Alex (Olga Kurylenko, Kirot) witnesses of her colleagues being brutally murdered by a highly specialized international syndicate, who are in search of a key. As she attempts to escape the murder scene, she is spotted by the syndicate's head, Mr. Washington, resulting in an ensuing chase and life or death situations as the unstoppable Alex fights for her life, as well as the lives of those at risk over this mysterious key and what it may open.
A Sexual Thriller (TBA)
Alexandra Duval (Luna Rioumina) is a beautiful, young, deadly assassin She has the training and disciplined grace of a nallerina coupled with the fortitude and lethality of a mighty warrior. She specializes in the 'soft kill' – getting up close & personal with her targets – a black widow. But after she learns of a murder eerily similar to that of her fiance's, she embarks on her quest to find those responsible for killing the love of her life.
Sicario (TBA)
Emily Blunt (shown below in Looper) stars, playing "A confident female cop [who] joins a secret CIA operation to take down a big Mexican cartel boss, a job that ends up pushing her ethical and moral values to the limit." Other members of the cast include Benicio del Toro and Josh Brolin, and there'll be some local interest for us here, with its Arizona setting – though the filming appears to have been in Albuquerque, New Mexico. Director Denis Villeneuve received plaudits for his earlier work, Prisoners, and I'm getting something of a No Country for Old Men vibe about this production – not just because of Brolin, but also cinematographer Roger Deakins – perhaps combined with cop TV series The Bridge [which, of course, was a remake of a Scandinavian show]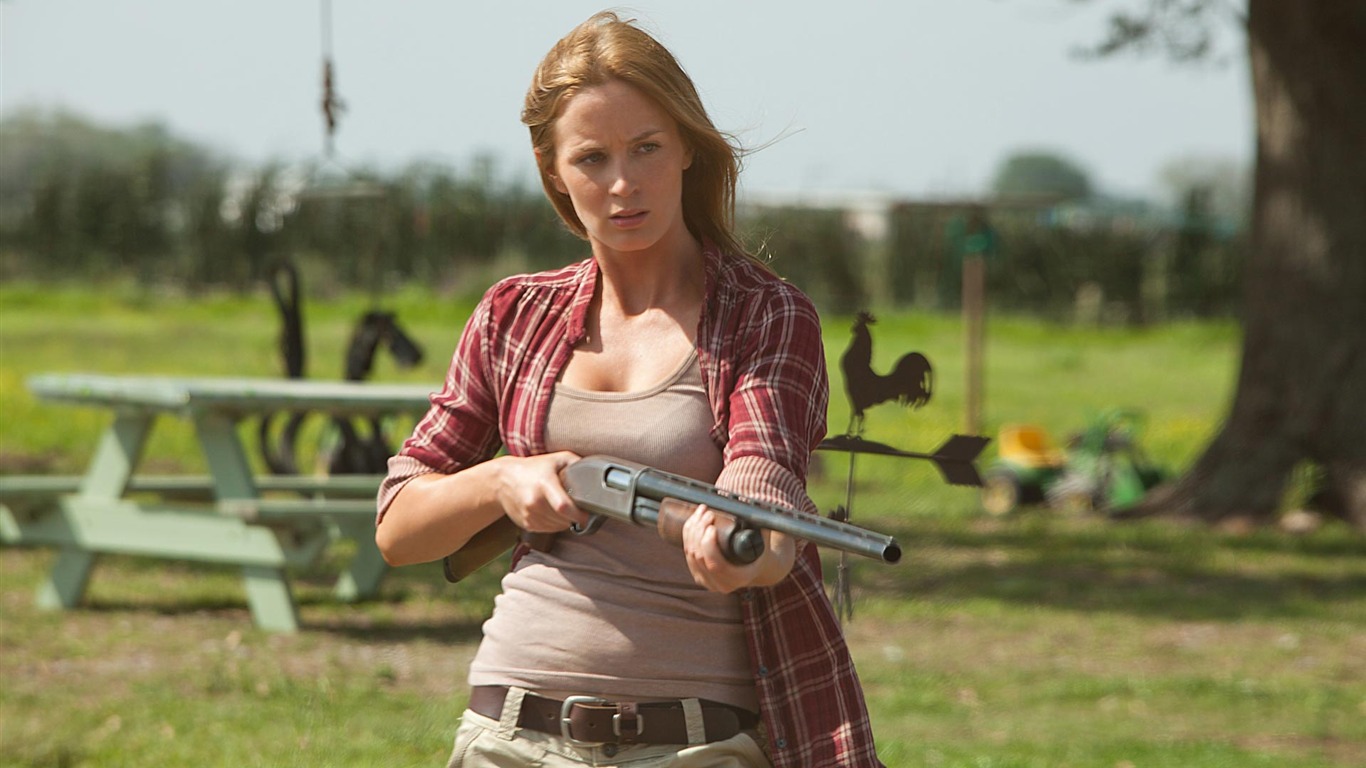 Spy (May 22)
"Susan Cooper is an unassuming, deskbound CIA analyst, and the unsung hero behind the Agency's most dangerous missions. But when her partner falls off the grid and another top agent is compromised, she volunteers to go deep undercover to infiltrate the world of a deadly arms dealer, and prevent a global disaster. " This will be the third collaboration between director Paul Feig and star Melissa McCarthy, with the film also starring Rose Byrne, Jason Statham, Jude Law and – a favourite of both my wife and mine – Miranda Hart. One imagines this is more likely to be heavily skewed toward the comedy aspects rather than the action, but I'll confess to a sneaking respect for McCarthy, the only decent thing about Bridesmaids [that was one of Chris's movies!]
Suffragette (TBA)
A September release in the UK, no American release date yet. This "tracks the story of the foot soldiers of the early feminist movement, women who were forced underground to pursue a dangerous game of cat and mouse with an increasingly brutal State. These women were not primarily from the genteel educated classes, they were working women who had seen peaceful protest achieve nothing. Radicalized and turning to violence as the only route to change, they were willing to lose everything in their fight for equality – their jobs, their homes, their children and their lives." The star is Carey Mulligan, best known perhaps for playing the heroine in Blink, the finest episode of Doctor Who.
Survivor (TBA)
So there may be no Resident Evil, but this one might give us our Milla Jovovich fix for the year. "A State Department employee newly posted to the American embassy in London is accused of crimes she didn't commit, and forced to go on the run while she tries to clear her name and stop a large-scale terrorist attack set for New Year's Eve in Times Square. " It was filmed in the first quarter of this year (apparently when they say "on the run", they mean it for Milla, as shown on the right), and I'm not sure why it's apparently being sat on – there's no US release date currently, but it's listed as September 2015 in the Netherlands. The Director is James McTeigue, who did V for Vendetta and Ninja Assassin.
Tiger House (TBA)
High concept: "An injured gymnast must defend her boyfriend's house from a gang of armed robbers." Slightly-lower concept: "Kelly sneaks into her boyfriend's house but tonight, she's not the only unwelcome visitor. Now, she must draw on her reserves of strength and skills of dexterity to escape. As the situation spirals out of control, the suburban house becomes a terrifying arena for violence. " Tagline: "12 hours. 4 killers. 1 way out." Second quarter release scheduled for the UK, with Kaya Scodelario as the heroine, and Dougray Scott also present.
Z for Zachariah (TBA)
Another post-apocalyptic tale based on a novel – seems to be a trend for 2015 – though this one, by Robert C. O'Brien, dates back to the seventies. It starts Margot Robbie, who will also be Harley Quinn in the upcoming Marvel film, Suicide Squad. According to Variety, "The thriller follows a small-town girl (Robbie) who lives alone on a farm in the only valley with breathable air in the wake of nuclear war. Her world is turned upside down when two strangers wander in from the forest." Chris Pine and Chiwetel Ejiofor also star, presumably as the two strangers mentioned.