"You just can't get good henchmen these days."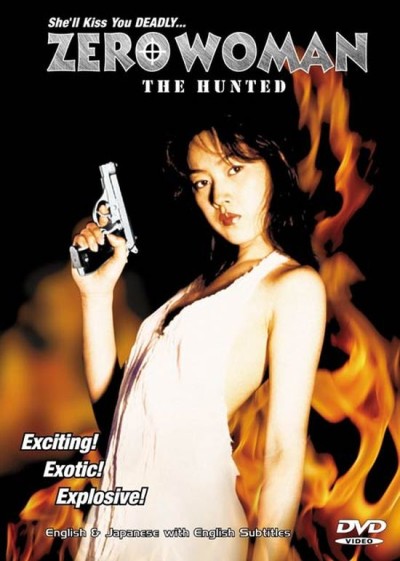 If ever I become an evil overlord, I will ensure my minions' idea of security does not involve walking slowly in the open, towards an attacker, while firing wide of them from a range no greater than a slightly oversize dinner-table. That's the first thing we take from this, which begins with a thoroughly implausible scene where Rei (Ono, who had been a part of 90's J-pop group CoCo) manages to drown her target, a German industrialist, despite him being roughly twice her size, and without anyone in or around the swimming-pool noticing anything. She then climbs out, pulling a gun from who knows where, kills bodyguards who'd fail the Imperial Stormtrooper accuracy exam, and abseils down the side of the building to escape. That sets the tone for much of what follows, combining a reunion with someone from her past, a blossoming relationship with a chef, and her boss's traditional surly reluctance to allow anything as banal as "personal happiness" to distract his #1 killer from her work.
It's rather bitty, and there are too many scenes of Rei sitting around her apartment, staring wistfully into space or oiling her breasts. I should point out, however, this is actually oiling of the breasts that turns out to be necessary to the plot, which has to be worth an extra half-star in anyone's book. As usual, it's a different actress in the role, but Ono is a significant part of the problem here, as she just isn't convincing as a hard-assed hitwoman, lacking the presence or even, apparently, the basic competence for the role. Fortunately for the film lasting more than five minutes, those she's going up against are even worse, being unable to hit a barn if they were inside it. The film does redeem itself in the final 20 minutes or so, when all the threads tie together, and we realize that her boss was not kidding when he said, "There's no place for you, except in Zero Section." Things thereafter return to a grim and pessimistic worldview, and this shows the series at its most effective.
However, once you get past the initial mission to kill the German, there isn't enough genuine action in this for it to be memorable. Maybe it's a function of the low-budget, with your production being much cheaper, when you are filming your lead actress trying to look intense, instead of needing to expend money on blood squibs, blanks and other actors [I think it was renowned B-movie director Jim Wynorski who once described nudity as the cheapest special effect]. But it's a method that is harder to pull off successfully, and in this particular instance, I can't say the approach makes for more than marginally passing entertainment.
Dir: Norihisa Yoshimura
Star: Mikiyo Ono, Reina Tanaka, Kou Watanabe