"Memo to self: Scandinavian women were bad-ass."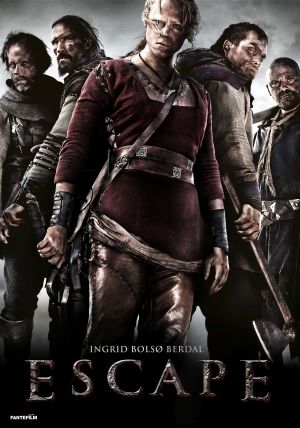 14th-century Norway, not long after the Black Death has decimated the population. Signe (Andreasen) and her family are on the road, seeking a new life, when they are attacked by bandits. Signe is captured and taken to their camp, ruled by Dagmar (Berdal); she was expelled from the nearby town, whose inhabitants thought she was a witch. Signe isn't the first girl abducted to give the matriarch a family; there's also Frigg (Olin), a younger girl whom Dagmar is inducting into the ways of the clan. But Frigg is not there yet, and help Signe to escape: needless to say, an enraged Dagmar and the rest of her gang, are soon hot in pursuit, chasing them across the chilly (and beautifully-photographed) wilderness.
It's a straightforward story, effectively told, and held together by very good performances from the two leads. It would have been easy for Signe to become some kind of teenage Rambette, but her transformation from plucky but inexperienced daughter into someone who can credibly take on a bunch of crypto-Vikings is well-handled. She hardly ever goes hand-to-hand with them, avoiding the obvious issues of size and strength, in favour of guild and wits. In the other corner, Dagmar, while being a complete bad-ass bitch, who looks like she would rip you head off for us, if she found herself short of a goblet, is given enough backstory to turn her into something of a sympathetic character, which is more than you can say for most villains in this kind of survival flick.
Of course, there are inevitably points where the characters behave in ways that are more necessary for the plot, than perhaps the most logical course of action. However, I can't say those irritated myself or Chris too much – and she's usually far less lenient of such things, especially in action heroine movies, where I want to give the film the benefit of any doubt. The action scenes are well-handled, and the deaths each pack more wallop than you'd expect, with the way in which they're staged enhancing the emotional impact. It's more than a little reminiscent of Pathfinder, another Norwegian film, made in 1987, which was also set in medieval times, and concerning a young boy abducted by a savage tribe [it was remade by Hollywood a couple of years ago, transplanting the story to North America].
However, the mother-younger daughter-older daughter triangle here adds a significant new angle, and clocking in at a brisk 82 minutes, there's hardly an ounce of fat in the form of wasted moments, on its lean Scandinavian frame. What few such pauses there are, you can just admire the lovely Norwegian scenery.
Dir: Roar Uthaug
Star: Isabel Christine Andreasen, Ingrid Bolsø Berdal, Milla Olin, Kristian Espedal