"Because 'Killing Asian model of few words' wouldn't fit on the DVD sleeve."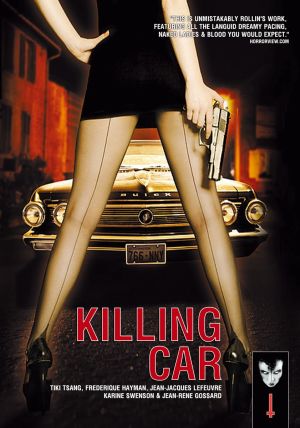 This is a surreal revenge thriller, which begins at a scrapyard where the bickering of a couple is interrupted by an Oriental woman (Tsang), who shoots them dead and takes a car. A series of similar encounters follows, which take a similar form: we are introduced to one or more characters; then the woman shows up, and kills them, leaving a toy car behind at the scene as a marker. This includes a photographer and her assistant; an antiques dealer and his girlfriend; the owner of a dance club, etc. Meanwhile, two cops are following the trail of corpses and Hot Wheels, and it gradually becomes clear that the woman's actions are tied to a car accident the previous year, with which all her victims had a connection of some kind.
It's a very chilly piece, with a central character about whom we know almost nothing for the great majority of the film, making it difficult to empathize with her murderous rampage. Meanwhile, it doesn't take long before we realize that just about everyone else to whom we're introduced, is going to get shot, so there's no point in getting attached to, or even caring about them. The role is one that was written for Tsang, who never appeared in anything else, as far as I can tell: that probably says more than anything else. She's not bad, and has a certain cold charisma that's appropriate, but there just isn't enough on which to hang any criticism of her performance. Certainly, despite a willingness to shed her clothes, she's nowhere near as good as Brigitte Lahaie was in the other Rollin flick we've reviewed here, Fascination – interestingly, that appears to be explicitly referenced in one scene here, with a scythe being wielded in a very similar way.
It does remind me somewhat of Ms. 45 too, with a lead character who lets her violent deeds speak louder than her words, though the motive there was a good deal clearer, and placed up front. The highlight is probably an early gun-battle in an almost deserted fairground, which has an eerie, suspenseful quality that's quite effective, and it's interesting to see a Rollin movie which does not include female vampires, a staple of his work. However, on balance, I think a few more fangs, perhaps accompanied by a less willfully-misleading title, might not have been a bad thing.
Dir: Jean Rollin
Star: Tiki Tsang, Frederique Haymann, Jean-Jacques Lefeuvre, Karine Swenson