"The film that could only have been made in Mexico, where female life is cheap…"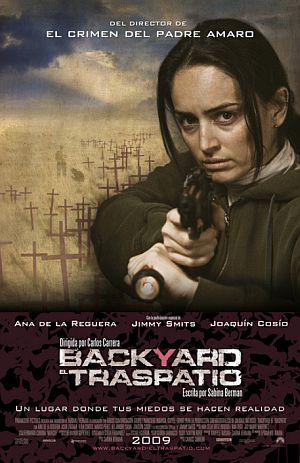 The US border is all that separates El Paso, Texas, from Ciudad Juarez in Mexico, but the two cities' ways of life are worlds apart. On the Mexican side, the bodies of women turn up, almost every week: sexually assaulted, with signs of torture and/or body parts missing. The police barely bother to investigate; the victims tend to be far from home, low-paid workers in the factories which drive Juarez's employment. Into this comes police captain Blanca Bravo (de la Reguera), who vows to track down the perpetrators. But doing so pits her against the multinationals who could do without the bad publicity; against her commander, who says to her face that "women make good nurses, but lousy police officers"; and state politicians, who are uneasy about exactly what she might uncover.
This is based on a very unpleasant reality, also covered in the Jennifer Lopez movie, Bordertown, but one senses that was sanitized for American palates. This doesn't soft-pedal anything: the brutality, corruption, sexism and poverty depicted makes for pretty challenging viewing. You may recognize de la Reguera from her role as the nun in Nacho Libre, but this is right at the other end of its portrayal of Mexico: barely controlled anarchy where, if you pick the right person, it's possible to get away with murder. This is personified by the story, running parallel to Blanco, of a young women, who arrived in Juarez to seek work, and her eventual fate. While harrowing, this angle doesn't shed much extra light on proceedings, and probably dilutes the film's focus.
The central performance, however, is solid, with Blanco portrayed as someone willing to put everything she has – her career, or even her life – on the line, to protect those who have little or no protection in the eyes of the law. If the film has little to offer in the way of surprises (especially if you're a fan of Dexter, you'll be able to spot the psychopath a long way off!), and nor does it offer much in the way of resolution, it's a decent, if grim, look at a world just a couple of hours drive from where I'm writing this in Arizona. And it's a world I'd rather keep at arm's length if possible.
Dir: Carlos Carrera
Star: Ana de la Reguera, Asur Zagada, Marco Pèrez, Alejandro Calva