"Half-human, half-demon takes on her own kind. Haven't we seen this before?"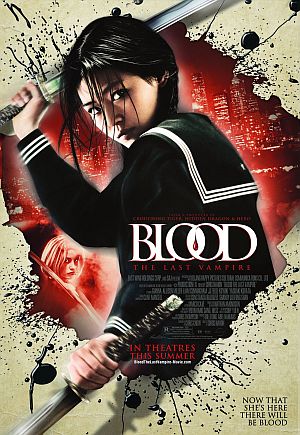 The animated version was one of the first reviews I wrote for the site, and I didn't like it much – the fifty-minute running time allowed for hardly any development of scenario or characters at all. The feature fares a good bit better in these departments, though suffers from some horrendous editing styles and a couple of monsters which appear to have strayed in from a Playstation game (and I am not talking Playstation 3 here, either). The basic plot is retained. Saya (Gianna) is a half-demon with a grudge, intent on taking out Onigen (Koyuki), the one responsible for the death of her father. Working under the loose guidance of The Council, she is inserted into a school on an American air-force base in 1970 Japan. American girl Alice (Miller) has been added; Saya rescues her, and the two end up on the run, pursued both by Onigen and more regular forces.
This wasn't as bad as the reviews led me to expect, and Gianna goes a good job of capturing the permanently-peeved expression of Saya. There are certainly lots of fights, with Corey Yuen doing his usual solid work, though the cutting of these early on, renders them almost incomprehensible. Seriously: you have almost no idea who is doing what to who. However, that seems to change in the second half; there's a very solid battle in the forest between Saya, her mentor, and an endless horde of minions, and the final battle between the heroine and Onigen certainly doesn't lack for spectacularity…er, -ness. Or something.
Going against this, Alice's presence seems no more than a sop to the international market, because she serves little or no purpose to the film otherwise. There's also a thoroughly unsatisfactory sequence where Saya fights a flying monster on a truck, perched precariously in a gorge: it's both incoherent and very badly-rendered, a combination that would shame a SciFi original movie. That said, it kept me entertained and awake, which is more than some films (coughSnowbloodcough) have been able to do this month. If Gianna wants another stab at an action heroine flick, I wouldn't object.
Dir: Chris Nahon
Star: Gianna, Allison Miller, Liam Cunningham, Koyuki