"More threatening than girls with guns: teenage girls with scalpels. Gentlemen: cross your legs."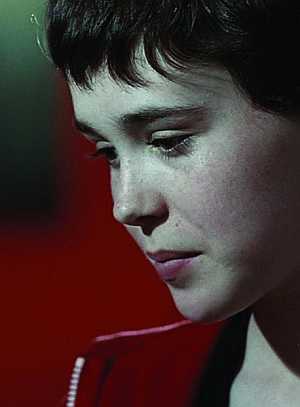 This is almost unbearably creepy, in two different directions: however, it's almost impossible to discuss this film in any meaningful way without spoilers, so you have been warned. The danger of online predators is well-known, and when fourteen-year old Hayley (Page) agrees to meet photographer Jeff (Wilson), who is in his thirties, alarm bells are ringing. They reach a piercing level after she goes to his house, starts drinking vodka and flirting outrageously. However, the tables are abruptly turned: she's spiked Jeff's drink, and he wakes to find himself tied-up, and entirely at Hayley's mercy. He soon finds out that's a quality she is very definitely not inclined to provide.
So, who do we sympathize with? The paedophile? Or the psychopath? Pick your poison, and it's the kind of bravely ambivalent film I love, for Jeff is far from the usual cliched portrayal of a child-molester: rather than a sleazy old man in a dirty mac, he's charming, well-spoken and educated. Which makes him far more dangerous, of course. Though he meets his match in Hayley, and it's a brilliant performance by Page. We have absolutely no idea whether any of what she says is true, regarding herself (is she 14, or is that part of her act?), her family or even the apparently-damning evidence she finds of Jeff's paedophile tendencies. The last is perhaps an error on the film's part, since it's at its best when we're less certain as to whether Jeff deserves the horrible fate Hayley has in store.
Oh, yes: horrible. Armed only with a medical textbook, a bag of ice and some sharp objects, she prepares to make sure that Jeff will not bother any other little girls again. Cue the film's second, and most critical, mis-step, as it pulls a punch which would have made this an instant evil classic – you sense Takashi Miike, whose Audition this most closely resembles, might not have backed off. From here, the film does stray into implausible territory, with Jeff spurning several chances to escape, or overpower Hayley [who looks about 95 pounds]. However, that doesn't really diminish from a film that has the guts to ask a lot of questions which seem to have easy answers, and then confront us with a reality that makes things more complex than we'd wish.
Dir: David Slade
Star: Ellen Page, Patrick Wilson