"Sex, drugs and funk 'n' soul, in a throwback to the future of action heroines."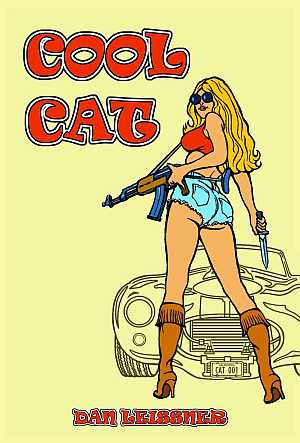 My review of this is somewhat delayed, because the book spent two months inside what remained of our car, after a nasty accident on the freeway. It was finally rescued, and the next chance I got was actually on a plane going to Las Vegas – fortunately, it appears as though the book was not cursed, and I survived that trip intact. Chris actually got to read this one first: she made note of Leissner's frequent usage of the word "Undulating", to describe everything from the landscape to the heroine's figure. Me? It's a good word, one you don't get to use too often, so more power to him there. The heroine in question is Cat Warburton, the semi-estranged daughter of an industrial tycoon, who works as a secret agent for an agency of uncertain origins. Her intended vacation goes awry, and she finds herself knee deep in a plot involving black militants, white supremacists and – this'd be a spoiler if it weren't mentioned on the back cover – aliens from outer-space. She'll need all her talents, if you know what I mean, and I think you do, to survive.
It's clear the style is intended to reproduce pulp potboilers of an earlier year: it's never made clear what era it's set, but I'd say mid- to late-70's, if pushed. It's equally cinematic though, set to a Motown-esque soundtrack, and half the fun is working out who'd play the various roles: Charlize Theron for Cat? Or Uma Thurman? Sybil Danning, twenty years ago, would have been perfect. Though whoever it'd be, would have to be entirely comfortable with their body, since there's hardly a scene where Cat is not showing more or less flesh. That brings me to one of the odd points: there's an awful lot of sadistic torture scenes, almost all the victims being female characters – this sits uneasily with the generally liberal viewpoints on sexual liberation, drugs and race.
However, qualms about such sequences aside (and the elderly matron beside me on the plane seemed quite intrigued by them), the plot does also career a little too far out of control towards the end. The whole "alien" angle seems superfluous at best, and I'd probably have preferred it not be invoked at all, since the rest of the plot stands on its own quite nicely – it feels as if Leissner doesn't have enough faith in his own script. Still, as soon as I picked it up, I was hooked, and even once I got off the plane, was reading it every chance I could get. It's enormous fun, and Cat is a great heroine, whose skills are beyond compare: she's smart, strong, independent, and capable of kicking your ass, with or without weapons. Exactly the kind of heroine, Hollywood would never be able to cope with, in fact.
By Dan Leissner
Publisher: Midnight Marquee, $20.00
The book is available on Amazon.com