"If at first you don't succeed…"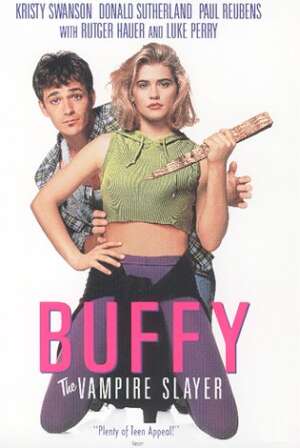 Buffy may be the only successful TV series based upon a failed film. A critical and commercial flop, creator Joss Whedon just wouldn't let it lie, and finally got the mix of drama, horror, comedy and action he wanted in the show. The movie is a different matter, and has not aged well. The SoCal culture now seems incredibly dated, and Swanson takes too long to become the sympathetic heroine essential to the film. It also has no idea what to be: for a comedy, large chunks are not funny (despite classic lines involving coat-racks and clapping); if it's a horror movie, it's a lame one, with vampires largely as threatening as harvest-mice; and if you want social satire, you're far better off with Clueless or Heathers.
The supporting cast help rescue the uneven material, with Sutherland as the guru whose near-impossible task is to convince Buffy of her mystical calling. Hauer plays a Euro-vampiric nemesis impeccably, but top plaudits go to Paul Reubens. About as far from Pee-Wee Herman as imaginable, he gets one of the finest death scenes in cinematic history. The cast also includes future Oscar winner Hilary Swank, Natasha Gregson Wagner, David Arquette and uncredited roles for Ben Affleck and Ricki Lake. Ironically, the part played by Seth Green, werewolf Oz in the TV show, ended up on the cutting-room floor.
Perhaps the most interesting aspect is comparing this incarnation to v2.0 from five years later. No Scooby Gang (bad), no Angel (good), no cool dustings when the vampires are staked (bad). On the whole, it's about what you'd expect after an interesting concept from a rookie film writer has been chewed up and spat out by a corporate studio. Hard to say which is more miraculous: that Whedon got another chance, or that a corporate network didn't do worse still.
Dir: Fran Rubel Kuzui
Star: Kirsty Swanson, Luke Perry, Rutger Hauer, Donald Sutherland