"Candy is dandy."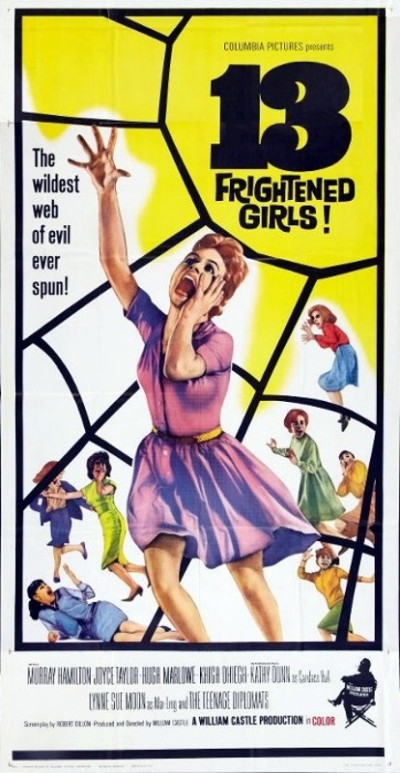 Though he produced Rosemary's Baby, the legendary William Castle is best known for his gimmicky horror flicks such as The Tingler or House on Haunted Hill, which sought to enhance the cinematic experience with things like "Emergo" [a plastic skeleton on wires that flew out into the audience]. They're awesome. This title sounds like another one – not least because it evokes his own 13 Ghosts from three years previously – and the poster (right) does little to dismiss that belief, but it is actually closer to Spy Kids. Not that Castle abandoned his eye for publicity, generating it here by an "international contest" to find the titular baker's dozen, who could play the daughters of diplomats from 13 different countries. However, the film itself is played straight, and while undeniably dated, is so in an generally adorable matter. Who knew the Cold War – for this came out less than a year after the Cuban Missile Crisis – could be such fun?
The heroine is Candy Hull (Dunn), 16-year-old daughter of an American diplomat stationed in London, who attends an exclusive private school with the other diplo-daughters. They all hang out quite happily, entirely unfazed by the political shenanigans of the adults, more concerned with typical teenage girl things, such as boys and being popular. Candy, however, has her heart set on the embassy's chief spy, Wally Sanders (Hamilton, whom you may recognize as the mayor in Jaws!). Through her friendship with Chinese girl Mai-Ling (Moon), she stumbles into, and defuses a plot to frame her father (Marlow) for the murder of a Russian liberal, leaving the evidence for Wally under the nom-de-guerre of "Kitten". Wally is amazed, and Candy discovers that being a teenage girl with "diplomatic immunity" is a great cover to hear gossip and not have anyone pay you attention. However, her success eventually brings her notoriety, and the Chinese call on "The Spider" to find and kill the spy who has been leaking all their secrets.
It's a weird mix, cutesy with some fairly grim moments, such as Candy having to yank a blade out of a corpse, and a non-zero body count: I'm not sure who the target audience was for this. Some aspects do seem strange to contemporary eyes. Candy is perhaps too "grown-up", and her crush on him now seems wholly inappropriate, their relationship causing Chris to mutter "pedophile!" under her breath on multiple times – not least when Wally threatens to spank her! But given the tenseness of the times, it's far less polemic than it could be, not painting all Reds as bad, and it's clear that whatever may have changed over the past 50 years, teenage girls clearly haven't. Dunn makes for a plucky heroine, and there's genuine tension here on occasion.
Dir: William Castle
Star: Kathy Dunn, Murray Hamilton, Hugh Marlowe, Lynne Sue Moon
a.k.a. The Candy Web